VIRTUOSI
Year: 2012
Classification: Exempt - Ronin Recommends: G
Runtime: 76 min
Produced In: Australia
Directed By: Sue Healey
Produced By: Sue Healey
Language: English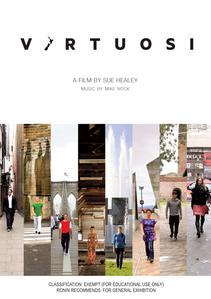 price includes GST and postage

Created by award-winning choreographer and dance film maker Sue Healey, with music by New Zealand jazz legend Mike Nock, Virtuosi is a feature length documentary about the drive to be an artist and the special nature of virtuosity in dance. Through exhilarating dance and stories from the heart, Virtuosi reveals intimate and astounding portraits of eight New Zealand dance artists.
Destined for greatness, these artists all left their homeland in their youth, to pursue careers around the world. They have each achieved remarkable things and through this film audiences have the rare chance to reflect on their careers. Virtuosi dances ideas across many cities and cultures - New York, Berlin, London, Brussels and Australia – revealing fascinating dance lineages and connections back to New Zealand.
• Winner Outstanding Achievement in Dance on Film, Australian Dance Awards 2013
• Silver for Cinematography (Judd Overton) 2013 ACS Awards Australia for Documentaries, Cinema & TV
---
Director's statement:
As a choreographer, filmmaker and installation artist - movement and the moving image is my raison d'etre. Virtuosi is a major project, both a feature length documentary and a 3 channel installation for galleries.
Dance is such a peculiar beast. It is hard to pin down, document, find language for. You can't frame it and hang it on a wall. You can't put it in a museum and say this is what it is – or even what is was. It is ephemeral, transient, disappears in a flash. This unspoken, embodied knowledge is passed on only through human interaction and expert care. This is of course what makes dance unique, but it is also its burden.
Virtuosi is my attempt to give dance a frame, to articulate and celebrate the essence of why we do it.
I do this by focusing on 8 extraordinary artists from the edge of the earth, Aotearoa, New Zealand. They all left their homeland in their youth (as I did), driven by their art. They all have made incredible contributions to the international stage in their own ways. I ask them to dance in their new cities and iconic spaces, in Berlin, New York, London, Sydney, Melbourne, Townsville and Wellington. I ask them to reminisce about their New Zealand-ness, think about lineage and the importance of place on them as artists and people. Does your location actually determine who you are?
Permalink: https://www.roninfilms.com.au/feature/10547