SISTERS
Year: 2008
Classification: M
Runtime: 42 min
Produced In: Australia
Directed By: Claire McCarthy
Produced By: Claire McCarthy, Mim Davis
Language: English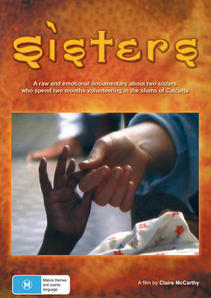 price includes GST and postage

Strong-willed but naive Australian teenager Helena McCarthy, nose-dives into volunteer work in Calcutta, India, one of the poorest cities on earth.
Wanting to 'do good' Helena embarks on a wild goose chase to locate the surprisingly low profile order of nuns made famous by Mother Teresa. When she finally finds 'Mother House', Helena has a brief orientation and then its off to work. Her first experience of volunteering is at a children's orphanage where Helena leaves after 20 minutes. Next stop, a street clinic, then Kalighat, Mother Teresa's famous home for the dying. It's a steep learning curve. So overwhelmed by her physical and mental response to the work she tries to do, Helena withdraws. Big sister Claire on camera bears witness to Helena's struggles over the ensuring weeks as she gradually, at times painfully, comes to make sense of her overwhelming situation as she tries to find a place to be useful amidst Mother Teresa's zealous volunteer missionaries. It is frustrating, confronting and emotional.
Big questions and values, life's meaning and worth, the human condition and sibling angst, are all explored in this raw and engaging journey, told by Claire, experienced by Helena.
Permalink: https://www.roninfilms.com.au/feature/465