PORTS OF DESTINY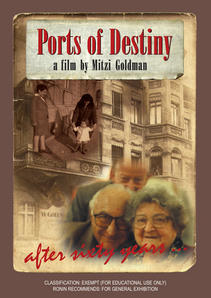 price includes GST and postage

PORTS OF DESTINY is a film about aging and destiny. The film follows Bernard Goldman, the filmmaker's father, who at the age of 76, travels from Sydney to Buenos Aires to visit his 96 year old aunt and cousin. He hasn't seen them since they all fled Germany 58 years earlier. As the story unfolds and Bernard re-lives the memories and emotions from his past life, he struggles to come to terms with his own aging.
Bernard is confronted by the situation of his aunt who lives alone and does everything for herself. He wants to take charge, but how involved can you get after 60 years?
PORTS OF DESTINY is both a specific and a universal story about the effects of separation by the events of history, how one confronts saying goodbye and the outcomes of destiny.
This personal film has been produced, directed and shot by the filmmaker. The result is a powerfully intimate portrait of family dynamics.
Permalink: https://www.roninfilms.com.au/feature/433