CROSS LIFE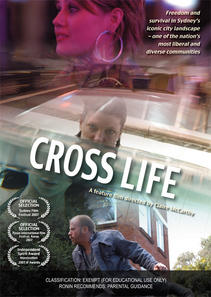 price includes GST and postage

Kings Cross is Australia's most famous neighbourhood and one of the nation's most socially liberal and culturally diverse places. CROSS LIFE challenges the misconceptions and attitudes of this rich and diverse arena and grapples with themes of family, identity and freedom.
The film is an intensely dramatic, intensely human matrix of stories about the people of the Cross: some surviving the hard way, others stumbling towards loving relationships. The film began as a community arts training program to assist young unemployed people to gain employment in the film industry. The team produced a short documentary film and then decided to develop their work into a feature-length drama. The film's stories were gleaned from a year of research and extensive interviews with local Kings Cross characters. The project had strong support from local businesses and community, the local council and also from film industry professionals and service providers. Many of the young cast members were participants in the training program and were joined by professional actors including Imogen Annesley, Paul Caesar, Tony Barry and Danielle Rohweder.
For all its vision of the harsh realities of the Cross, the film is still determinedly optimistic and sees hope for all its characters. It also expresses a deep affection for the tacky glamour of the Cross, and comes alive with the sense of community among the people who choose to be there.
---
DIRECTOR'S STATEMENT:
Fundamentally, the aim of CROSS LIFE was to make a universal, humanist Australian feature film about the changing face of Sydney's infamous Kings Cross.
Incredibly generous support for the project from Australian Film Industry professionals and service companies, the unique nature of the creative process in developing the films narrative within a training program and by establishing a direct link with the community in which it was born has given CROSS LIFE the potential to be a unique Australian feature film about a particular and colourful part of Sydney.
Each story in CROSS LIFE explores basic struggles – the cycles of birth and death, the rites of passage from childhood to adulthood, the tensions between traditional beliefs and the distractions of the modern world.
Sydney's infamous Kings Cross is the symbolic backdrop for this opera of ordinary people's lives.
---
Director - Claire McCarthy
Writers - Christopher Strickland, Claire McCarthy and Andre Smith
Producers - Claire McCarthy, Anne Robinson and Andre Smith
Director of photography - Robert Agganis
Editor - Ken Sallows ASE
Music - Michael Yezerski and Claire Morgan
Featuring (in order of appearance) Tony Barry, Gerard McCarthy, Danielle Rohweder, Georgie Speakman, Elaine Hudson, Imogen Annesley, Richard Kennett, Paul Caesar, Clareissa Holm, Kate Musfud, Mo Amiri, Carl Laurie, Syanne Williams, Jonothan Elsom and George Sais.
---
OFFICIAL SELECTION - 2007 Sydney Film Festival
OFFICIAL SELECTION - 2007 Pusan International Film Festival, Korea
Independent Spirit Award Nomination - 2007 IF Awards
Related files
Permalink: https://www.roninfilms.com.au/feature/3871