PIONEERS OF LOVE
Year: 2005
Classification: Exempt - Ronin Recommends: G
Runtime: 110 min
Produced In: Australia
Directed By: Julie Nimmo
Produced By: Richard Dennison
Language: English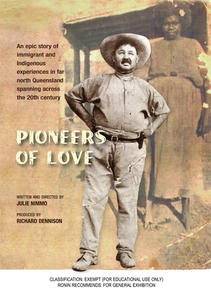 price includes GST and postage

In the early 20th century, a small group of Russians, including members of the Illin family, fled from persecution in Tsarist Russia and settled in the Atherton tablelands in far north Queensland, calling their new home "Little Siberia". They embarked on the huge and daunting task of clearing the rainforest for dairy farming, effectively dispossessing the Ngadjonji people who had lived there for thousands of years.
The new settlers soon made contact with the Ngadjonji, and Leandro Illin, in his late 20s, became involved with Kitty Clark, a Ngadjonji woman. Leandro and Kitty had a child together and applied for permission to marry from the Protector of Aborigines in Queensland. Interracial marriage was forbidden by law, and permission was denied. Police soon arrived to remove Kitty and her children (including three from a previous marriage). Leandro began many years of struggle to protect Kitty and the children and to secure the right to marry.
Through the personal story of Leandro and Kitty, the film offers insights into the practical workings of the Protection Board regime, and the complex social realities of life for both immigrants and Indigenous peoples on the pioneer frontier.
The film achieves an evocative and seamless blend of location footage, archival imagery, family photos, re-enactments, readings from letters and other documents, woven in with forceful interviews with descendants of the two dedicated lovers and the Russian community in north Queensland.
The writer-director of this large-scale project is Julie Nimmo, an experienced journalist for Indigenous programs such as Living Black, ICAM and Message Sticks. In 2002, she won won the prestigious Walkley Award for Excellence in Journalism.
Her film is based on a book, My Dark Brother, by Elena Govor (UNSW Press, Sydney, 2000): mydarkbrother.elena.id.au/index.htm
Related files
Permalink: https://www.roninfilms.com.au/feature/9205