JAVA SPIRIT, THE: Religious Diversity in Indonesia
Year: 2013
Classification: Exempt - Ronin Recommends: G
Runtime: 45 min
Produced In: Australia
Directed By: Agus Purwanto
Produced By: Thomas Reuter
Language: English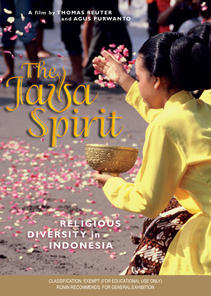 price includes GST and postage

The Java Spirit is an exploration of changing attitudes to religion and spirituality in Java, Indonesia. Java is home to a diverse array of spiritual traditions, influenced by all the world religions but building also on its own unique heritage. The Javanese spiritual heritage is rich but not as well known to the Western public as is Indian yoga, for example. Java Spirit provides a glimpse of some of the many unique and fascinating forms of the Javanese tradition.
While it has been a part of the human journey from prehistoric times and remains an important force in contemporary societies, religion is also culturally diverse and changeable across time. This is because religion must evolve to meet the changing life experiences and needs of people across different societies and historical periods.
Radical cultural and economic changes in the wake of globalisation have created similar living conditions for a large proportion of humanity today. Religious trends in contemporary Indonesia reflect these global societal changes, and similar religious responses in western societies and elsewhere. This is important to note because western media have bombarded us with misleading negative stereotypes of Islamic countries like Indonesia, producing ignorance, fear and hostility, in line with the questionable geopolitical objectives of the so-called "War on Terror".
The Java Spirit explores some of the new forms of religiosity emerging in contemporary Indonesia, focusing in particular on Java, Indonesia's political center and most populous island. Attitudes toward religion are changing in this increasingly urban, middle class, media-driven, late modern consumer society. At the same time, local spiritual traditions and associated value systems serve as a critique of late modernity and as a foundation for imagining alternative futures.
Permalink: https://www.roninfilms.com.au/feature/8898