CHASING SHADOWS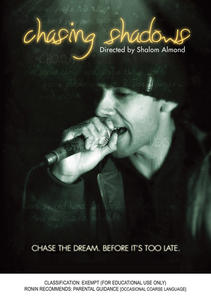 price includes GST and postage

Newspapers say the only way for young Aboriginal fellas to make it big is to play footy. That's what I did, until I injured my knee and my footy career was cut short. The rehab's been hard, but now I have time to pursue my real passion - hip-hop ...
---
Colin Darcy and his two best mates from the mining town of Whyalla start a hip hop band called SHADOWS. They move to Adelaide with high hopes and write rap songs about their personal experiences – being Aboriginal, growing up in a small town, racism, loss of family and striving for success.
But becoming stars doesn't go as planned and SHADOWS struggle to find their feet in the local music scene. Chasing Shadows follows Colin and the band over six months in the studio, in rehearsals and on stage as they try to make it big and still stay friends.
---
WINNER! Best Documentary - 2011 South Australian Screen Awards
Permalink: https://www.roninfilms.com.au/feature/5534