LIFE OF THE TOWN
Year: 2009
Classification: Exempt - Ronin Recommends: PG
Runtime: 390 min
Produced In: Australia
Directed By: Paul Roberts
Produced By: Paul Roberts
Language: English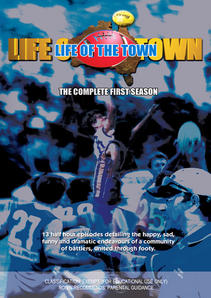 price includes GST and postage

DISC ONE
1 | MEET THE TOWN
Coach Shane Woods and local football legend, Brendan "Jibba" Deering share what it's like living in a small Australian country town, like Ongerup. Noongars [the Indigenous people of southwest Australia] no longer live in Ongerup but they join the Wadjellas [people of European background] to make up the local football team that is the pride of the community.
2 | LIFE OF THE COACH
The mighty Ongerup Kangaroos have just come from a Premiership winning season in 2007. In 2008, they haven't won a game. New coach Shane Woods wonders, "is it me or is it the players?" Who'd want to be a coach?
3 | HANGING IN THERE
When you're four zip in the first round of the season, how do you deal with the pressure? Club President, Kalevi Guy, aka "Pumba", fears the club may fold in the near future.
4 | FAMILY MATTERS
The Ongerup Football Association has structured its schedule so that all sports are played every Saturday at either a home or away location. For the men, women and children of the different communities, it's a chance to socailise and celebrate their precious, laid-back, Australian country lifestyle.
5 | MEN'S BUSINESS
Club members, young and old, meet on a cold Sunday morning for a "chainsaw massacre", to raise funds for the club. Captain Mat Campbell and football legend Brendan "Jibba" Deering tell us of the importance of bonding through football.
---
DISC TWO
6 | RESPECT
Other than a mighty passion for Australian Rules football, Noongar artist, Athol Farmer and Wadjella farmer, Kelly O'Neill, would appear to have little in common. They discuss the town's profound respect for cultural difference and faith in basic human decency.
7 | HEALING
Ex-boxing champion and Ongerup footballer, Eugene Eades, has had a pretty tough life. As a child, he witnessed his family being broken up through misguided government policies. Eugene has dealt with his own anger and is now recognised as a charismatic leader, helping to bring Noongars and Wadjellas closer together.
8 | GLORY DAZE
What does it feel like to win a Grand Final? Popular ex-coach, Robbie Miniter, together with other players and supporters, re-live the glory days of 2007.
9 | TOWN CLOWN
Hatchet man on the field, larrikin and joker around the town, Vinnie Perich, is leaving town after scoring a job in the regional centre of Albany. De-population is the most serious problem facing small towns across rural Australia, towns like Ongerup. It's going to be an emotional farewell.
10 | THE PENNY BROTHERS
The late Isaac Penny lived in Ongerup and was a fine player for the Kangaroos. Isaac had five sons, four of whom are current players. Find out what it's like to be a member of a big, extended Noongar family and why the Penny brothers are legends around this club.
---
DISC THREE
11 | HOME SWEET HOME
Brendan Deering is a hugely positive figure within the Ongerup community. "Jibba" and his wife, Claudine, tell us why Ongerup is the best place in the world. And the football team? Just quietly, they've won four in a row and are still a chance of making the finals.
12 | A GOOD SEASON
In the final game of the season, the Roo's take on arch-rivals Borden, the nearest town to Ongerup. Some people in both towns are lobbying for an amalgamation between the two clubs. Currently, there seems to be too much work for too few people, but it's a hot issue.
13 | AROUND THE CORNER
This year's Grand Final is located at Ongerup's modest sporting complex. We see what it takes to organise the facilities for the town of 250 to deal with an influx of 5,000 people from all over the region. The film crew re-visited Ongerup in December 2008, three months after this event, to talk to all the characters we met during the season. They told us where they expected to be in 2009 and BEYOND ... and whether the football club will survive.
---
"The production of LIFE OF THE TOWN, beginning in the winter of 2008, was a joyful experience for the filmmakers. Ongerup [population 250] is the town in question.
Situated in the Great Southern of Western Australia, its future is uncertain. Small country towns across Australia have been under the hammer for decades. Whether it's drought or commodity prices, the outcome is typically population decline and an ongoing struggle to survive as a community.
Ongerup is an all Wadjella town now [Wadjella = people of European descent]. But nearly half its football team are Noongars [sometime pronounced Nyungars = the Indigenous people of south-western Australia], who now live in nearby towns. Without the Noongar players, Ongerup would not have a team. And without a footy team, most locals believe the town will die.
LIFE OF THE TOWN takes its audience inside the lives of larger-than-life characters, into their homes and deep into the lives of the families, the wives, the girlfriends and the children. Over the arc of the series, we come to know these people well, Noongars and Wadjellas, to care about their welfare, share their ups and downs and admire their fundamental courage and decency. I believe LIFE OF THE TOWN marks a significant advance in Australian documentary. It gives voice to "ordinary" Australians, voice they've rarely had. And they absolutely shine."
- Paul Roberts, writer/producer/director of LIFE OF THE TOWN.
---
"It's funny, I don't personally know these people but after working on the film and hearing their stories, it feels like they're friends of mine. I'm sure going to miss them." - Dale Kickett.
Permalink: https://www.roninfilms.com.au/feature/4179