NIGHT THE PROWLER, THE
Year: 1978/2021
Classification: M
Runtime: 85 min
Produced In: Australia
Directed By: Jim Sharman
Produced By: Anthony Buckley AM
Language: English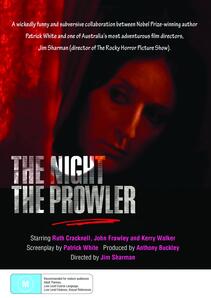 price includes GST and postage

A wickedly funny and subversive collaboration between Nobel Prize-winning author Patrick White and one of Australia's most adventurous film directors, Jim Sharman (director of <b<The Rocky Horror Picture Show</b>).
---
A savage black comedy of a dysfunctional middle-class family, laced with unexpected touches of surrealism. In a wealthy Sydney suburb, a neurotic mother oppresses her adult daughter, Felicity, soon to be married to a rising young diplomat. When Felicity claims she has been raped by a prowler, the family's façade of social nicety starts to crumble. Felicity herself responds to the crisis by gradually transforming from victimhood to liberation as a prowler herself, clad in black leather and stalking the streets of Sydney at night looking for revenge.
"For almost the first time in our history we have an Australian film with levels of meaning, wit, irony, plot complexity and something to say." – Bob Ellis, Nation Review
"What distinguishes The Night The Prowler from the general run of Australian films is the intellectual content, the evidence that a mind has been working behind the speeches and action." - Elizabeth Riddell, Theatre Australia
"The Night The Prowler is a strange, eerie incursion into the mind of Felicity, the pudgy, rather plain daughter of bourgeois parents who though they live in Sydney, Australia, would feel equally at home in Claude Chabrol's France. Actually, the film is more a searing indictment of the worldwide middle-class morality and mentality than a story of a desperate, strong misfit of a girl pushed from childhood into the confines of a fluted cookie-mold of gentleness and submission that cannot contain her nature. It is a brutally direct film that flinches at nothing, and in it Patrick White, who wrote the screenplay from his own short story, displays the genius that won him the Nobel Prize. Gutsy, funny, horrifying and tragic." - Norma McLain Stoop, After Dark (New York).
VIEW TRAILER HERE: vimeo.com/604466432
RUTH CRACKNELL JOHN FRAWLEY KERRY WALKER
in PATRICK WHITE'S THE NIGHT THE PROWLER
with JOHN DERUM MAGGIE KIRKPATRICK TERRY CAMILLERI
Music CAMERON ALLAN Production Design LUCIANA ABRIGHI
Director of Photography DAVID SANDERSON Editor SARA BENNETT
Screenplay by PATRICK WHITE Produced by ANTHONY BUCKLEY Directed by JIM SHARMAN
A PRESENTATION BY THE NEW SOUTH WALES FILM CORPORATION
DVD EXTRA: Audio Commentary by Jim Sharman and Kerry Walker
Permalink: https://www.roninfilms.com.au/feature/17608