MY MOTHER INDIA
Year: 2001
Classification: PG
Runtime: 52 min
Directed By: Safina Uberoi
Produced By: Penny McDonald
Language: English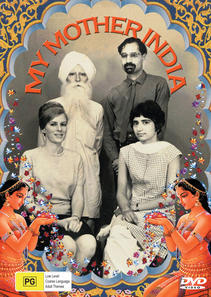 price includes GST and postage

Director Safina Uberoi traces her parents' history. Her Australian mother married a Sikh and moved to India. There they bought up their three children and survived the anti-Sikh riots of 1984. The autobiography features family photos, historical footage and interviews with the family particularly with Uberoi's mother, Patricia.
---
It is no wonder that Safina Uberoi made a film about her family: She has an Indian father who collects kitch calendars, an Australian mother who hangs her knickers out to dry in front of the horrified Indian neighbours, a grandfather who was a self-styled Guru and a fiercely man-hating grandmother. What begins as a quirky and humorous documentary about an eccentric, multicultural upbringing unfolds into a complex commentary on the social, political and religious events of the anti-Sikh riots in 1984 which tore this family apart. This is a powerful tale of love and hate, exile and belonging, loss of identity and return to faith.
4 1/2 STARS "This marvellous film ...took me on a journey I'd never been on before, worlds opened up..." Margaret Pomeranz, SBS Movie Show.
Best Australian Documentary, Real Life on Film Documentary Festival
Jury Prize for Best Australian Documentary, Australian Film Critics Circle
Rouben Mamoulian & Community Relations Commission Awards, Dendy Awards, Sydney Film Festival
Best Screenwriting Prize, The NSW Premier's Literary Award
Special Jury Award, Hawaii International Film Festival
Best Long - Form Documentary, Australian Teachers of Media Awards
Related files
Permalink: https://www.roninfilms.com.au/feature/570