Harry Bardwell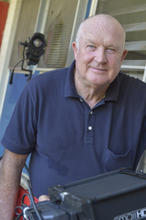 Harry Bardwell has been an independent producer, broadcaster, senior media manager and headed funding at ScreenWest. In his various roles he has worked on hundreds of hours of independent productions and public broadcasting.
Harry began his career in Western Australia where he trained in film making at PIFT (now FTI), the ABC and WAIT (now Curtin University).
Following several years running his own production business in South Australia, Harry rejoined ABCTV in Sydney in 1983. At ABCTV he held positions as a factual, documentary and science writer/producer/director; executive producer/ commissioning editor / Head of Department; ABC Head of International Production and Operations and GM Media Business.
In 2002 Harry created the executive media consultancy Bardwell Media with clients: SBS Australia, Hutchison 3 and Carlton Productions.
In 2005 Harry joined ScreenWest as Director, Production and Development, responsible for funding over 100 hours of film, television and digital media production projects in Western Australia.
In 2013 Harry reincorporated Bardwell Media to work in association with Beyond West. Harry is Managing Director of Bardwell Media and Manager and Executive Producer at Beyond West.
Filmography
| | |
| --- | --- |
| | This landmark documentary was broadcast on Channel 7 in 1981 and had immediate political impact, mirrored when it was broadcast in Britain on Channel 4... |
| | WINNER! BEST DIRECTION IN A DOCUMENTARY (Stand Alone) for Prison Songs - Kelrick Martin, 2015 ADG Awards (Australian Directors Guild) --------------- Aboriginal citizens make up 30% of the Northern Territory's population but in its largest prison, over 80% of the inmates are Indigenous... |