Olivier Pollet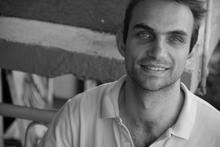 2012 - Canning Paradise – Director, Producer, Writer, Narrator. First feature.
2010 – 2012 Research Associate for the Australian Centre for Independent journalism
Canning Paradise director and producer, Olivier Pollet, is a young French journalist and independent documentary filmmaker, passionate about human rights, the environment and development issues. His love for travelling and exploring different cultures started at a very young age, having lived in 6 different countries and lucky enough to have visited more than 30 accross Europe, North and Central America, the Middle-East, Asia and the Pacific. He started studying history and anthropology in Paris before moving to Australia in 2006. After completing his degree in journalism at the University of Technology in Sydney, Olivier embarked on the "Canning Paradise" adventure in order to shed some light on the huge social and environmental impact that the tuna industry has in the Pacific. After travelling for 2 months alone in PNG to meet the tribes impacted by the project, Olivier came back to Australia and founded his own production company "Fourth World Films" in order to complete the project and be able to work on similar issues in the future. "Canning Paradise" is his first long feature investigative film and he self funded the production. Olivier currently holds an honorary research associate position with the Australian Centre For Independent Journalism.
Filmography
| | |
| --- | --- |
| | Decades of over-fishing by the global tuna industry have now pushed the final frontiers to the waters of Papua New Guinea... |