Linda Cooper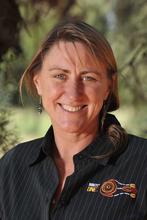 Linda Cooper is currently working (2014) as Communications Manager for the national organisation Ninti One Limited. Ninti One is a research organisation that supports economic and community development in remote areas of Australia.
Up until March 2011, she was Project Director for the Premier and South Australian Government establishing programs that promote innovation in science, maths and engineering and science engagement - the first being the Australian Science Media Centre in 2005, and more recently the Australian version of the Royal Institution of Great Britain, the RiAus in 2009.
She is also an Independent Producer for programs, media and film for science collaborations with the
arts, and cross-cultural initiatives. Linda has been the Chair of the Australian Network for Art and Technology, a member of the New Media Arts Board of the Australia Council of the Arts and the Australia Council's Multicultural Arts Committee, and Deputy Chair for the Experimental Arts
Foundation.
Linda has a degree in Chemistry and English literature, postgraduate qualifications in science communication, and has held exhibition and senior management positions in science centres and museums in Australia and the Asian Pacific region, including the National Science and Technology Centre, The INVESTIGATOR and Petrosains in Kuala Lumpur. Linda has produced science exhibitions and
programs which have toured Australia and internationally, favourite being Burrara Gathering: Sharing
Indigenous Knowledge.
With her unique skills mix of both science and media, Linda is instrumental to both the commissioning
and content of this series of documentaries. Linda supervised both the Bragg and Fenner documentaries.
Filmography
| | |
| --- | --- |
| | "So much I did not know about my hero, Lawrence Bragg! This film is original, fun and unexpected." - Robyn Williams, ABC Science broadcaster... |
| | "I found this film, Microbes to Macrobes, to be fascinating, surprising and very moving. It is a fitting tribute to a great Australian and an internationally renowned scientist"... |