Nick Torrens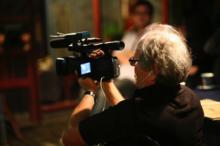 Nick Torrens is a leading Australian author of original, award-winning documentary, filming subjects in Asia, Australia, Africa, Europe, the US and Canada. His films observe the intimate lives of ordinary and extraordinary people - and the dramatic, unexpected worlds they inhabit. They have screened at major film festivals, in cinemas and on international television. Torrens read Literature and Psychology at the University of Queensland, and continued his education in the wider world on Greek fishing boats, German building sites as both labourer and photographer, as a Dresser in London theatre on Oh Calcutta! - and he ran a bar in Paris.
He has commissioned documentary for the SBS Television Network, designed and directed courses for the Australian Film, Television & Radio School, conducted development programs for State and Federal agencies, taught documentary history and practice, chaired international forums, prepared industry submissions and reviews, assessed projects for federal and state film agencies, acted as mentor for emerging filmmakers and worked to enhance the profile and sense of community among documentary practitioners. He is a founding member and former National Chairman of the Australian International Documentary Conference, and Artistic Director of HEADLANDS, Australia's first National Documentary Ideas Development Laboratory.
Torrens conducts Master Classes and seminars in documentary technique and gives documentary presentations, including at the Australia-China Business Council, the Victorian College of the Arts, the Australian Film Television and Radio School and the Australian Graduate School of Management at the University of NSW. Last November he was Jury President for Ecrans de Chine, the European Festival of Chinese Documentary in Paris-Rome-Saarbrücken-Turin- Milan.
Among his films over 30 years are:
CHINA'S 3DREAMS (Documentary feature): takes us deep inside the present dilemmas and dreams of China's people in an 11 year study - without mediation from Western presenters or narrators. Featuring rare archive and extraordinary testimony from former Red Guards, it is a powerful parable of China in the twenty-first century.
Best Feature Documentary, Film Critics Circle, Best Documentary, Singapore World International Film Festival, Overall Audience Award Grand Jury Winner Los Angeles World International Film Festival, Honourable Mention, Berlin International Film Awards, Gold Award Best Documentary Asia Pacific, Dosima, Jakarta, American Insight Free Speech Award 2016 Finalist, Best Director Australian Directors Guild nomination, Best Documentary Sydney Film Festival nomination.
Festivals To Date: F.I.P.A. in Biarritz France, Lasalle Festival International du Documentaire en Cévennes, International Festivals Signes de Nuit in Paris, Lisbon, and also in Saarbrücken where it was the Closing Night film, the Brooklyn Film Festival, Les Ecrans de Chine, European Festival of Chinese Documentary in Paris, Rome, Turin, Milan and Saarbrücken; Also the Human Rights Human Dignity International Film Festival in Myanmar; American Insight Free Speech Awards, Philadelphia, International film festivals in Sydney, Canberra and Launceston B.O.F.A; World International Film Festivals in Singapore, Los Angeles and Hong Kong. Screening events with expert panels at the Australian Centre on China in the World, and at the University of Sydney. Theatrical screenings with discussion at London's Deptford Cinema and as part of the China Visual Festival Event at King's College, London. Coming are further festivals in Europe and the U.S.
LIBERAL RULE: THE POLITICS THAT CHANGED AUSTRALIA (3x one hour) A landmark television series that analyzes Australia's recent political history featuring former Prime Minister John Howard, his key cabinet ministers and the nation's leading political historians, social scientists, economists and authors. SBS Network.
Winner 2010 AFI Award for Best Documentary Series, Winner 2010 Australian Directors' Guild Award for Best Direction.
THE MEN WHO WOULD CONQUER CHINA : A candid and very personal study of West-East capitalism:; a New York banker and his Hong Kong partner search over 4 years for the perfect mix of economic and political opportunity in China.
Best Feature Documentary, Film Critics Circle of Australia, Best Documentary, Sydney Film Festival Dendy Award, AFI Award- Best Editing in a non-Feature, InPUT Taipei, Chicago International Documentary Festival, Shanghai TV Festival, Tri-Continental Film Festival, Asian Studies Film Festival USA, Midwest Conference on Asian Affairs, Australian International Documentary Conference and New Zealand Film Festivals.
TO GET RICH IS GLORIOUS : The second in a long-term series documenting the lives of Hong Kong residents: a wealthy Chinese entrepreneur shares his strategies and identity-dilemmas, and together with a millionaire New York partner, tries to take advantage of "the Golden Era" in China. Sydney Film Festival, IDFA Amsterdam, Culture Unplugged Online Film Festival, Auckland, Wellington Film Festivals among others.
RUNNING FROM THE GHOST : An observational parable: how British colonial perspectives controlled the lives of Hong Kong's people. Paris Cinéma du Réel, Margaret Mead Film Festival in New York, Melbourne Film Festival, Australian International Documentary Conference, TEN Network and international television
Vis à vis: TECHNO TRIBAL : A joint venture with Yerosha Productions Inc in New York: Two indigenous writers and performance artists from Australia and the United States embark on a satellite link journey comparing their worlds and their work.
Winner Best Creative Work Award, 2010 Xi'an International Imaging Festival, Best Documentary Feature DownUnder International Film Festival 2004, Best Documentary finalist, Montréal Présence Autochtone 2004, Planet IndigenUS Toronto 2004, Sydney Indigenous Arts Festival 2004.
Filmography
| | |
| --- | --- |
| | VIS A VIS: TECHNO TRIBAL compares the experiences of Indigenous people in Australia and the USA by linking two charismatic Indigenous artists in these countries through digital satellite video... |
| | "In the 1970s, we had three dreams: a watch, a wireless and a bicycle". What are the dreams of the Chinese people today? Filmed over an 11-year period, Nick Torrens' third essay film about China in the modern world is an exploration of the missing years – the years of the Cultural Revolution... |