Viviana Petyarre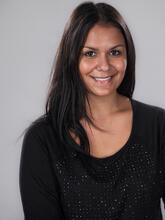 Viviana Petyarre is an Alyawarre filmmaker from Utopia in the Northern Territory. Her films draw on her cultural heritage and the community she lives in, Alice Springs. Her connection to her community and her youth inform her work with a fresh and exciting vitality, bringing an authenticity and intimacy to the screen. During her 4 years at CAAMA (Central Australian Aboriginal Media Association) she produced eight short documentaries for NITV. Her work is screened on NITV, SBS on Demand and ICTV.
Viviana's documentary Petyarre, filmed at Utopia with her famous artist grandmothers, was invited to screen at the Margaret Mead Festival in New York in 2016.
In 2017, Viviana completed a three-month internship with Beach House Pictures, Singapore.
She has also participated in various writing and story workshops held by Screen Australia Indigenous, ABC Indigenous, NITV and Screen Territory, and has had the opportunity to work alongside established filmmakers in mentoring settings.
Viviana has her own production company, Sandover Films Pty Ltd, and under this company she has produced a short film and has written and directed a half hour documentary as part of the Red Ochre initiative funded by NITV and Screen Territory.
Filmography
| | |
| --- | --- |
| | These two related short films were made a year apart in 2016-17, both depicting the search by the artist Gloria Petyarre and her family for a cave that figures strongly in the culture of her people... |