Grant Saunders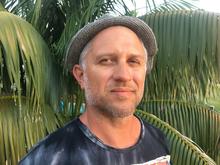 From 2007-2011, Grant Saunders produced over 20 half hour TV documentaries, as well as music videos and documentaries for the Indigenous unit at ABC TV. In 2011 he won the Out There and Deadly emerging Indigenous filmmakers fund provided by Metro Screen.
Saunders has won a number of awards including Best Achievement in Indigenous Filmmaking at St Kilda Film Festival in 2007 for B.L.A.C.K. His short film Black Beach played at the ImagineNative film Festival Canada, 2008; and he received the John Newfong Media Prize for Best Indigenous work in 2009.
Saunders is now working as an independent filmmaker based in his new hometown of Newcastle, and his small production house, Sonic Nomad, is producing educational videos, TVCs, PSAs, corporate videos and documentaries. In 2018 he was engaged in doing a PhD on conscious Hip Hop.
Filmography
| | |
| --- | --- |
| | "Teach a man to fish and he will feed for a lifetime; teach a man to be, and he will know what freedom is." Grant Leigh Saunders is an Aboriginal filmmaker, writer and musician who has secretly always wanted to be a fisherman, just like his father and grandfather before him... |