Helen Kapalos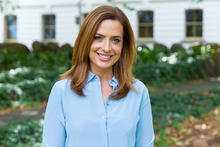 Director's Statement - A LIFE OF ITS OWN
HELEN KAPALOS
(Writer, Director, Producer)
This documentary was conceptualised following a series of stories I worked on during my time as an investigative reporter on a major Australian network, stories which affected me profoundly. At the centre of those stories was 24-year-old Dan Haslam, struggling with the final stages of bowel cancer. A reluctant user, medicinal cannabis gave him instant relief during chemotherapy. This is the story of how Australia took up the debate with fervour.
​
For Dan's mum Lucy it led to a life quest for answers and for the truth. The journey took me to the largest human trials in the world in Israel, where medicinal cannabis is legally administered and has been studied by leading scientists for more than 5 decades. For me this revealed the full story of how the science can work so effectively with the human trials. I was also astounded at the difference in the doctor's attitudes, in exploring the merit of medicinal cannabis as a genuinely alternative medication for patients. This was always prefaced through a lens of compassion. For me the Israeli model combined a tight regulatory framework, allowed for the science to be practically applied and exemplified a humanitarian approach.
As a journalist, it was a story that I felt I had to tell in a more fulsome way than I had been allowed to within the parameters of a commercial TV network. It was an incredibly rewarding story to explore which will stay with me for many years to come as this plays out in a global setting. There's much that needs to shift, including attitudes in some sections of the community and medical profession. We all deserve the best options in healthcare. Furthermore, we have the right to know what those options are. The title reflects the life-enhancing properties of this ancient plant, and a story which indeed took on a life of its own.
Filmography
| | |
| --- | --- |
| | A Life of Its Own aims to provide clarity and understanding of one of Australia's most stigmatized and controversial issues – medicinal cannabis... |