VOICES OF TRANSITION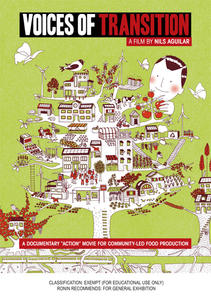 price includes GST and postage

Powered by the conviction that crisis can be a major catalyst for change, Voices of Transition present paths towards a new model of human existence: one which is fair, environmentally sound and fulfilling, with soil and people supporting each other in a balanced and sustainable system.
Farming in transition
France is a leader in agroforestry research. The natural forest eco-system is the best source of inspiration for the shift away from destructive monocultural farming to diversified and truly efficient agricultural ecosystems.
Chapter 1 - From farming to agribusiness
Chapter 2 - Going beyond organic
Chapter 3 - Bringing trees back to the fields
Community-led solutions
With its roots in the UK, the Transition Town movement is now booming globally. Numerous grassroots initiatives are bringing food production into the city, encouraging resource-conscious thinking and re-localising infrastructure.
Chapter 4 - Resilience
Chapter 5 - The Transition Towns movement
Chapter 6 - Permaculture and urban farming
Cuba's path to agroecology
When the Soviet Union collapsed, so did Cuba's oil supply. The country's farms faced an unprecedented crisis. But Cuba has used this desperate situation to become a pioneer of agroecology and urban farming: 70% of all fruits and vegetables eaten in Havana are now grown in the city - and they're organic.
Chapter 7 - Cuba's path to agroecology
Chapter 8 - Epilogue
Chapter 9 - Credits
---
"A MASTERPIECE! Fascinating in both content and delivery." - Prof. Uwe Schneidewind, President Wuppertal Institute for Climate, Environment and Energy.
"As this important and honest film shows, we can transition to a new world - provided we summon the will!" - Bill McKibben, founder 350.org, environmental journalist, climate activist.
---
DVD SPECIAL FEATURES: interview with rob hopkins (28 mins) and trailer (2 mins)
---
BEST ENVIRONMENTAL FILM - 2014 Colorado International Film Festival
WINNER - First Time Director, 2014 Oregon Film Awards
MAIN PRIZE - Ecological Success Stories, Ekotopfilm-Festival, Bratislava
OFFICIAL SELECTION - 2013 FIFE Paris, France
OFFICIAL SELECTION - 2013 Environmental Film Festival, Washington D.C., USA
OFFICIAL SELECTION - 2013 Green Film Festival in Seoul, Seoul, South Korea
Related files