ME & YOU (NIDF series 5)
Year: 2002
Classification: Exempt - Ronin Recommends: G
Runtime: 26 min
Produced In: Australia
Directed By: Mark Bin Bakar
Produced By: Dot West
Language: English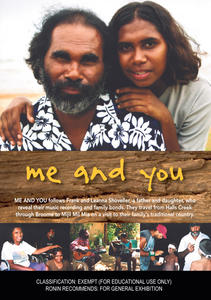 price includes GST and postage

ME AND YOU follows the relationship between Frank Shoveller and his teenage daughter Leanna as they travel from their home in Halls Creek to their traditional country south of Broome. Leanna has inherited her father's musical talent and is going to record her first album in Broome. Leanna and her father then travel with their family to Mijil Mil Mia to catch up with their mob in Karijarri country.
As we travel with Frank and Leanna, we learn about their endearingly close relationship and and how they are linked, not only through ties of blood but also through their musical talent. Frank and Leanna are Karijarri people living in Gija country (Halls Creek). Frank's marriage to Christine has drawn him into the life of Halls Creek and he and Leanna love living in the small town on the edge of the desert.
Frank teaches at Halls Creek High School where he is able to inspire the students. Leanna is growing up and, after having played music with Frank and the Shoveller Band for many years, she is now looking to other horizons with her own recording.
The family heads to Mijil Mil Mia where they are welcomed back to the traditional country by the family. Frank's brother, Mervyn Mulardy, suggests a corroborree and the band gets ready to play. The concert, at a huge and spiritually significant Boab tree, combines the contemporary music of Frank, Leanna and their band, with the more traditional music and cultural life of the Karijarri people.
As Frank and his family head back to Halls Creek, we have an understanding of the way both modern and traditional music can be used to retain culture, and the importance of family for the maintenance of Indigenous identity.
This film is a part of the 'National Indigenous Documentary Fund Series 5'. Other titles in this series are: NGANGKARI, THE FOUNDATION, WE OF LITTLE VOICE & BIG GIRLS DON'T CRY.