WILD
Year: 1993
Classification: G
Runtime: 54 min
Produced In: Australia
Directed By: Ross Gibson
Produced By: John Cruthers
Language: English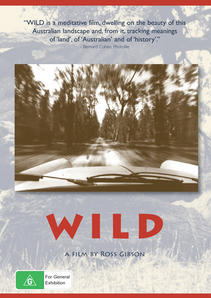 price includes GST and postage

Exploring the beauty and unruliness of the Pilliga forest in northern New South Wales, the film activates several mentalities, visions and languages - from cinematography, surveying, science and poetry to horticulture, history and ecology. Woven into this tapestry are the philosophies of land-tending cultures from several corners of the world, including the Kamilaroi Aborigines and the peasants of south-east China. The Pilliga was examined by Eric Rolls in his monumental book, 'A Million Wild Acres'. The film takes Rolls' work as its starting point and seeks ways to extend and adapt the written ideas into a new, cinematic evocation of the forest.
In the film, two fictional characters interpret and re-interpret the Pilliga. The main voice belongs to an archivist, who has discovered a collection of old audio tapes containing stories and research reports gathered by an eccentric historian whose life was spent investigating the forest. The interplay of voices and visions takes us meditatively into the forest until we begin to sense how the shape of the country is also the shape of our history.
Through its poetic observations, WILD leads us toward an understanding of how we might begin to settle, at last, with our past and into our landscape.
Best Film, Environment Category, San Francisco International Film Festival, 1994
Finalist, Documentary Category, Australian Teachers of Media (ATOM) Awards, 1994
Finalist, Dendy Awards, Sydney Film Festival, 1993
Filmed on location in the Pilliga Forest, New South Wales.
Based on the ideas and writings of Eric Rolls
With the voices of Paul Goddard and Eric Rolls
Director - Ross Gibson
Producer - John Cruthers
Associate producer - James Manche
Scriptwriter - Ross Gibson
Script collaborations - James Manche, John Cruthers
Cinematography - Joel Peterson
Editor - James Manche
Music by Gary Warner, John Willsteed, Bill Seaman
(c) 1992 Huzzah Productions Pty Ltd
CAMERA NATURA by Ross Gibson and John Cruthers, is also available through Ronin Films.