FOR LOVE OR MONEY: A History of Women and Work in Australia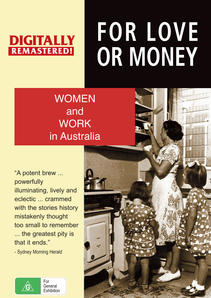 price includes GST and postage

DIGITALLY RESTORED by the National Film and Sound Archive in 2017.
Five years in the making, with contributions from hundreds of women and over 200 Australian films, FOR LOVE OR MONEY is an investigation and celebration of women's work from colonial settlement to the present, a story told by Aboriginal and migrant women, convict women and today's women.
The film chronicles the cycles of women's gains and losses as they are moved in and out of the workforce according to the demands of the time. It reveals how women's unpaid and voluntary work keeps an entire system running smoothly, in peacetime and in war. As wives and mothers, women do the work of loving - the work that is never paid or recognised as real work. The film shows how women's work in the home determines the kinds of jobs they do in the paid workforce - the low-paid, low-status jobs.
FOR LOVE OR MONEY also shows how women have fought and organised for equality and wage justice for over a century. This classic documentary remains relevant today as women continue the unfinished campaigns for equal pay, maternity leave and childcare, and still carry the major responsibility for caring and nurturing.
VIEW TRAILER HERE: vimeo.com/591890871
A film by MEGAN McMURCHY, MARGOT NASH, MARGOT OLIVER and JENI THORNLEY.
Music by Elizabeth Drake
Narration by Noni Hazelhurst
---
INFORMATION KIT
Scroll down to Related Files at the bottom of this page to download the Information Kit prepared to accompany the Restored Version of the film.
---
PART ONE: HARD LABOUR
Rare glimpses of Aboriginal women's traditional work introduce this archival compilation history of women's work in Australia. The story of convict women's enforced labour in the early years of the colonies is followed by an examination of the role of women through the decades of frontier conflict, pastoral settlement, gold rushes and industrialisation. Women's labour – as wives and mothers, maids and governesses, cooks and farmworkers, nurses and seamstresses – is essential work but always underpaid and unacknowledged. Class and race sharply define and limit women's roles. The growing trade union movement excludes female workers, so women form their own unions. By the beginning of the new century, women are campaigning for access to higher education, the vote, and equal pay.
PART TWO: DAUGHTERS OF TOIL
World War I calls men to the front, leaving thousands of jobs in offices and factories to be filled by women. At war's end, the minimum wage for a female worker is set for the first time - at 54% of the male rate. Returning soldiers reclaim their jobs and alarm at the declining birth-rate focuses official attention on motherhood. During the 1920s, middle-class women replace domestic servants with domestic appliances and working-class girls are increasingly employed on factory assembly lines, often under appalling conditions. Male and female jobs are strictly segregated, and women are kept in low-paid work. When the Great Depression puts thousands out of work, women are accused of stealing men's jobs. As another war looms, women activists continue their struggle for equal pay.
PART THREE: WORKING FOR THE DURATION
World War II brings women into war work again. They enter the defence forces and are allowed into skilled technical 'male' trades for the first time. Some are even granted equal pay. Most remain on the old female rate, fuelling an outbreak of strikes. At war's end, the female basic wage is raised to 75%, but women are pushed back into the home, idealised as housewives and mothers and encouraged to become consumers in the post-war boom. As manufacturing industry expands in the 1950s and '60s, a huge migration program provides labour for the factories. In commerce and retail, women are concentrated in low-paid, routine jobs. But now a new generation of young women, advantaged by access to higher education (and the pill), is about to challenge traditional female roles.
PART FOUR: WORK OF VALUE
The long campaign for equal pay achieves partial success in 1969, but it's not until after the Labor Party wins government in 1972 that equal pay is finally won. The new government answers feminists' demands for maternity leave and childcare, and enacts equal opportunity laws. Despite these reforms, most women workers remain in low-paid 'female' jobs and are barred from higher-paid 'men's' work. Inspired by the women's movement, successful campaigns are organised all over Australia to break down these barriers. But as the economic climate worsens during the 1970s, women are first to get the sack, and married women workers are accused of stealing teenagers' jobs. The repeating patterns of women's labour history from colonisation to the mid-'80s reveal clear links between women's lowly paid work in the workforce and their undervalued unpaid 'work of loving' in the home.
---
REVIEWS OF FOR LOVE OR MONEY:
"Instructive, entertaining, provocative and professional." - The Age, Melbourne.
"A potent brew ... powerfully illuminating, lively and eclectic ... crammed with the stories history mistakenly thought too small to remember ... the greatest pity is that it ends." - Sydney Morning Herald.
In 2017, FOR LOVE OR MONEY was screened at the Sydney Film Festival as part of a Feminist Film Retrospective, and drew the following comments:
"(The) best essay film in this year's Sydney Film Festival" - Conor Bateman, 'In the Cut' (June 16 2017, ABC 576) www.abc.net.au/radionational/programs/finalcut/sydney-film-festival:-a-critics-round-table-discussion/8620784.
"For Love or Money stands today as a major work of historical research, a masterclass of montage editing and a classic essay film." - Lauren Carroll Harris, Real Time
---
TEACHERS' NOTES and ADDITIONAL RESOURCES
The ATOM Study Guide (34 pages) is available free of charge, as a downloadable PDF. For a link to download the Study Guide, please scroll down to the bottom of this page.
See Australian Screen On-line for additional teachers' notes and clips from the film: aso.gov.au/titles/documentaries/love-or-money/
Click here to watch the original 1982 Pre-production Promotional Video for FOR LOVE OR MONEY made to raise funding for the film: vimeo.com/607855517
See also Resources p.9 in the FOR LOVE OR MONEY Information Kit below for a more comprehensive list of resources useful for teachers, students and scholars.
---
Related files