WHAT I WROTE - Matt Cameron
Year: 2007
Classification: Exempt - Ronin Recommends: G
Runtime: 60 min
Produced In: Australia
Directed By: Catherine Gough-Brady
Produced By: Catherine Gough-Brady
Language: English
Website: www.whatiwrote.com.au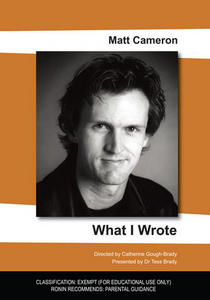 price includes GST and postage

An Australian playwright whose influences are suburbia, politics and rock music. His Ruby Moon delighted and shocked audiences. He holds a lens up to the ordinary and shows us how disturbing, how provocative it can be. Cameron talks about his themes of love, loss and the impossible and he shares his interest in comedy, his obsession with perfecting the text and his fascination with a kind of post-modern-absurdism.
This title consists of: a short filmed interview (approx 30 mins) with the playwright discussing his plays and writing methods; short 'lesson starter' films about each play and about curriculum concerns; accessible and informed commentary; easy to use chapters and menus; teachers notes; the writer reading a passage from one of his plays.
The writer discusses: key literary figures; development of his ideas and themes; motivation of his characters; adaptation of the texts; dramaturgy and staging of his plays; social and historical context of his plays; inspirational sources for his plays; tips for young writers.
[One 30 min film and 9 mini films]
PLAYS & SCRIPTS:
Footprints on Water
Hinterland
Mr. Melancholy
Ruby Moon
Tear from a Glass Eye
THEMES:
Absurdism
From Ideas to Script
From Script to Stage
Best Writing Tips
OTHER TITLES ALSO AVAILABLE IN THE 'WHAT I WROTE' SERIES:
Special discounts apply when buying the complete series of four DVDs - BUY 3 GET 1 FREE!
Related files