SECRET SAFARI, THE
Year: 2001
Classification: Exempt - Ronin Recommends: PG
Runtime: 52 min
Produced In: Australia
Directed By: Tom Zubrycki
Produced By: David Max Brown, Sally Browning
Language: English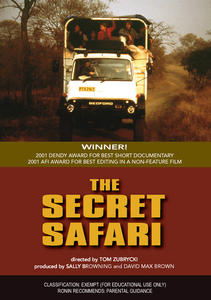 price includes GST and postage

"The calmness shown by those who lived and worked in such an explosive situation is riveting." - Virginia Addison, Daily Telegraph.
"What the drivers and passengers of these overland trips say about their journeys vary from nail-bitingly edgy to terrifying." - James Collie, Courier Mail (Brisbane).
THE SECRET SAFARI is a character-driven journey of courage, cunning and suspense. In the early 1980s a company called 'Africa Hinterland' was created by the exiled operatives of the African National Congress.
'Africa Hinterland' took tourists on overland sight-seeing trips which crossed the border into South Africa. Unbeknown to the tourists, under the seats of the truck were secret compartments housing military arms and explosives destined for the frontline of the underground military struggle against the notorious apartheid system.
The 'Africa Hinterland' operation made some 40 trips across the treacherous South African border loaded with a tonne of weapons each journey. They were never caught.
WINNER! 2001 DENDY AWARD FOR BEST SHORT DOCUMENTARY
WINNER! 2001 AFI AWARD FOR BEST EDITING IN A NON-FEATURE FILM