SINCE THE COMPANY CAME
Year: 2000
Classification: Exempt - Ronin Recommends: G
Runtime: 52 min
Produced In: Australia
Directed By: Russell Hawkins
Produced By: Russell Hawkins
Language: English + English subtitles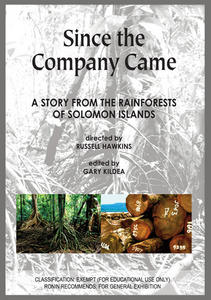 price includes GST and postage

A story from the rainforests of Solomon Islands.
SINCE THE COMPANY CAME is the story of a Solomon Islands' community coming to terms with social and ecological disintegration.
When village leaders invite a logging company to Rendova Island, disputes over land and royalties divide the Haporai tribe. Traditional chief Mark Lamberi finds himself in conflict with the new 'big man' of the village, logging chairman Timothy Zama.
Mary Bea and Katy Soapi are desperate to preserve the forests and traditions that sustain their tribe. But the forests have become a source of money, and money is the domain of men.
"Men don't want to hear anything from women, but we women are actually the centre of life in our village." - Mary Bea.
As Rendova's forest rapidly disappears, the logging company turns to Tetepare, a pristine island held sacred by the villagers.
---
Follow this link to view a trailer of this title along with others for use in support of overseas aid programmes: www.youtube.com/watch?v=hl1yF7wgcL4
---