GULPILIL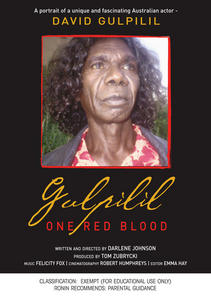 price includes GST and postage

David Gulpilil lives a Spartan and demanding life in tribal Arnhem land. The film shows David at home in Ramingining in Australia's Northern Territory and in his other life as a respected film actor.
GULPILIL - ONE RED BLOOD takes us from the world of cinema to Gulpilil's homeland and back again. It charts his career from his origins as a strictly tribal man who spoke no English, through his transformation to a jet-setting movie star. The film traces how Gulpilil's acting work declined during the 80s and how he was overlooked for over a decade. With his latest roles in Rabbit Proof Fence and The Tracker, Gulpilil is once again back in the spotlight.
We hear from acclaimed directors, Phillip Noyce and Rolf De Heer, Aboriginal activists, Marcia Langton and Gary Foley, and Industry peers Justine Saunders and Jack Thompson, as well as the women in his life. Interspersed with these interviews are generous clips from just some of the many feature films that defined his career: Walkabout (1969), Mad Dog Morgan (1976), Storm Boy (1976), Crocodile Dundee (1986) Rabbit Proof Fence (2001) and The Tracker (2002).
David Gulpilil approached Darlene Johnson to document his life, stressing that there be "no bullshit, and to show people my life and how I really live it".
WATCH TRAILER HERE: vimeo.com/477901286
Writer, director Darlene Johnson and David Gulpilil
Producer Tom Zubrycki
Editor Emma Hay
Cinematographer Robert Humphreys
Composer Felicity Fox
With special thanks to the communities of Ramingining and Maningrida, Northern Territory
Produced with the assistance of the Australian Broadcasting Corporation
Financed with the assistance of the Australian Film Finance Corporation
Follow this link to view clips from Australian Screen: australianscreen.com.au/titles/gulpilil-one-red-blood/
Related files