SMALL POPPIES, THE
Year: 2002
Classification: Exempt - Ronin Recommends: G
Runtime: 60 min
Produced In: Australia
Directed By: Robert Mac
Produced By: Robert Mac
Language: English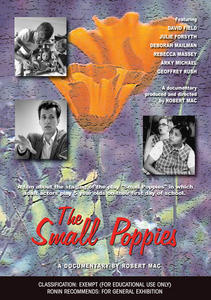 price includes GST and postage

This fascinating documentary gives a detailed insight into the staging of the successful play, "Small Poppies", through rehearsal and performance. Interviews with cast members, the director, Neil Armfield, and the author, David Holman, are intercut with scenes from the play itself, providing a rare document of the process of creating a powerful piece of theatre.
SMALL POPPIES is a beautifully tender play in which adult actors play a group of 5 year olds on their first day of school. Six adult actors play some 20 roles: not only the children on their first day but also schoolyard bullies, jokers and best friends, as well as parents and teachers.
Performed by Sydney's famous Company B, the play was a hit of the 2000 Sydney Festival, with both young and adult audiences. The play features an incomparable cast: Company B's long-time performer and board member, Geoffrey Rush, along with Deborah Mailman, Arky Michael, Julie Forsyth and Rebecca Massey.
The documentary explores the art of these fine actors through observation of them in rehearsal and in discussion. A rare record of Australian theatre artists at work, this entertaining documentary is both a delight to watch, and an invaluable addition to the study of theatre arts.