LIFE'S BURNING DESIRE
Year: 1992
Classification: G
Runtime: 51 min
Produced In: Australia
Directed By: Stephen Cummins
Produced By: Martin Guinness
Language: English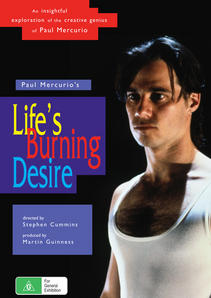 price includes GST and postage

An insightful exploration of the creative genius of Paul Mercurio.
The film explores Mercurio's vision and genius as a dancer through his experiences in the development and performance of "Contact", a new dance theatre piece conceived, choreographed and performed by Mercurio with his own dance company, ACE (Australian Choreographic Ensemble). The Australian Choreographic Ensemble is a professional dance theatre company that has been established so that individual choreographers can develop their skills in an environment that can support and foster their talent. The company's premiere work, "Contact", is a multi-media performance incorporating original music and film, set to the sounds of fire. The piece, which deals with confrontation, conflict and competition, has been created through a process of workshopping and collaboration between various artists. The creative process behind "Contact" provides the structure for this portrait of an outstanding artist and his work.
LIFE'S BURNING DESIRE is also lasting testimony to the gifted young filmmaker, Stephen Cummins who died in 1994.