ROUGH RIDERS
Year: 1995
Classification: M
Runtime: 55 min
Produced In: Australia
Directed By: Various
Produced By: Graeme Isaac, Trish Waites
Language: English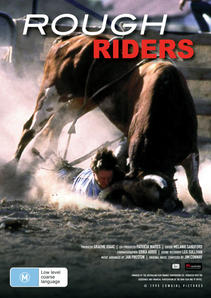 price includes GST and postage

ROUGH RIDERS presents a view of country life that city folk are barely aware of and are unlikely ever to experience. The film provides an insight into an extraordinary world that lies beyond the highway.
Every weekend, in hundreds of Australian country towns, young men risk their lives to ride for 8 seconds or more on the bare back of a bucking bull. It's one of the most dangerous of sports and serious injuries are common-place, but the adrenaline rush is addictive and more and more people are being drawn to the sport every year, either as participants or as spectators.
ROUGH RIDERS tells the story of two champion riders: Rodney Brien who lost his life in a bull-riding accident, and his friend, Edward Webster, who sustained a broken leg while being filmed in a practice ride.
Through the story of Rodney and Edward, the film explores the rituals of competition, the endless travel, the friendship and loyalty, courage and determination, that the sport entails. In spectacular action sequences, superbly shot by cinematographer Erika Addis, the film also captures the raw danger and sheer thrill of the sport, where man is pitted against beast, and man against man.
The film is enhanced with an original country music score by Jim Conway.