BUSH TOYS [from the CAAMA Collection]
Year: 2005
Classification: Exempt - Ronin Recommends: G
Runtime: 23 min
Produced In: Australia
Directed By: Sonja Dare
Produced By: Liz Warning
Language: Luritja Language, English subtitles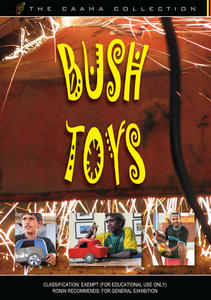 price includes GST and postage

This whimsical journey into original bush toy creations in the central desert of Australia puts a new slant on the craft of toy making. From the early pastoralist days of colonisation to current international art exhibitions as far afield as New York, we see the inventive adaptation of traditional European-style toys now accepted into modern Aboriginal culture.
Made from salvaged materials stripped from car bodies and found amongst discarded refuse around remote Aboriginal communities, these sought after artworks are the ultimate in recycling practice. Individually unique horses and riders are made from copperwire; trucks, cars, windmills and even mobile helicopters are fashioned from an amazing array of materials and assembled with extraordinary ingenuity.
The film follows the creative work of a group of young toy-makers from Titjikala community, 100km south of Alice Springs, as they rummage for inspiration in car-wreck yards, assemble their creations at the local arts centre, and offer them for sale to tourists or for exhibition. Their story is full of humour and high spirits, even including a quirky digression when the youngsters take "time out" from toy-making to go goanna hunting.
---
Director/Writer - Sonja Dare
Producer - Liz Warning
Editors - Lindi Harrison and Martin Fox
Photography - Jo Parker
Executive Producer - Rachel Clements
Narrated by Louise Cavanagh