STORY OF GALLIPOLI, THE (book)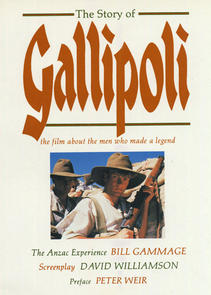 price includes GST and postage
A screenplay by David Williamson
Text by Bill Gammage
Penguin Books
1981
Paperback
159 pages
When heroic deeds transcend their immediate significance to become a symbol for an entire people, a legend is born. Gallipoli is such a legend. This book provides a compelling record of that ill-fated military campaign at Gallipoli in 1915, through historical photographs and eyewitness accounts of the ANZACS who fought in it.
The Story of Gallipoli also presents by way of the complete screenplay, comments of the director and still photographs, a rare insight into the process of capturing in a film the spirit of a ledged.
'Everyone on the film felt those terrible contradictions between youth and death, expectation and reality, courage and waste which characterised that cruel crucible of Australia's nationhood.' - Bill Gammage.
GALLIPOLI scooped eight of the 1981 SAMMY awards, including those for best film and best direction, nine Australian Film industry awards and the AWGIE award for best original film script.
A feature-length documentary, GALLIPOLI: THE FRONTLINE EXPERIENCE, by Turkish director, Tolga Ornek, is available on DVD through Ronin Films - www.roninfilms.com.au/feature/761.html