WHERE THE WATER STARTS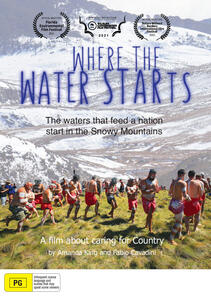 price includes GST and postage

"While the connection between Indigenous people and the land is at the heart of the film, the message is also one of a partnership between Indigenous people, other community groups and scientists working together in order to conserve the Park and rehabilitate degraded areas." – Wendy Bacon, activist.
NOW AVAILABLE FROM RONIN FILMS ON DVD AND AS A DIGITAL FILE FOR EDUCATION.
NOTE: Where the Water Starts is not available from Ronin Films for streaming in Australia. It is available elsewhere in the world through the Vimeo-on-Demand link on this page. For streaming in Australia, please contact Fan-Force: fan-force.com
Where The Water Starts reveals how the fragile alpine region, particularly Kosciuszko National Park, the largest in the Australian Alps, is seen by a number of Indigenous and non-Indigenous people who were born or live there, or who care deeply about it.
After seeing the destruction of the fragile alpine ecology of Australia's Snowy Mountains first hand, Richard Swain decides to speak out.
Australia's alpine area which covers only 0.01 of the inhabited part of the continent is under threat from a combination of feral animals, artificial water flows and climate change.
The headwaters of three iconic rivers, the Snowy, Murray and Murrumbidgee start there, yet these vital water sources are being trampled. The legal protection of a feral animal – the horse - is also a grave threat to the 34 native species of plants and mammals living in this unique and sensitive habitat.
The film's main protagonists speak about caring for Country as a shared responsibility of all Australians, revealing that the best of Aboriginal connection and of regenerative science can work together for a better future for the alpine environment and the planet.
VIEW TRAILER HERE: vimeo.com/838259762
FEATURING:
RICHARD SWAIN, AUNTY SUE BULGER, BRUCE PASCOE, ALISON SWAIN, PROF DAVID WATSON, AUNTY RHONDA CASEY, DR ISA MENZIES.
Director, writer: Amanda King.
Producers: Amanda King and Fabio Cavadini
Director of Photography: Fabio Cavadini.
Editors: Amanda King and Miriana Marusic
Graphic Designer: The Kingdom of Ludd.
Animation FX: Miriana Marusic
Sound Designer: Anthony Marsh.
Music: Audio Hero and Audio Jungle
Financed with the assistance of Documentary Australia, Inner West Council Arts & NED Foundation Social Developers Network(SDN), and over a hundred donors who contributed to a crowd-funding campaign.
© Frontyard Films, 2021