SIGNED, THEO SCHOON
Year: 2021
Classification: Exempt - Ronin Recommends: PG
Runtime: 100 min
Produced In: New Zealand
Directed By: Luit Bieringa
Produced By: Jan Bieringa
Language: English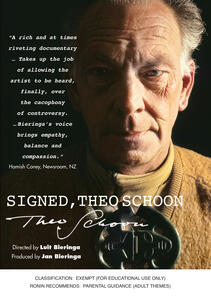 price includes GST and postage
The Dutch émigré artist, Theo Schoon (1915 – 1985), was raised in the East, trained in the West, and replanted in the South. He rocked the New Zealand cultural world with controversies, and built a strong liaison with Māori communities and traditional arts. He was especially drawn to Māori rock art and to the thermal landscapes of Rotorua. For all the 'noise' that surrounded Schoon – as in mad, bad and dangerous to know - the artist that emerges from this film is one who gave infinitely more than he took.
In traversing the social and cultural landscapes of New Zealand from the late 30s through to Schoon's death in the mid 80s, the film is archive-rich and poetic and is inspired by a popular biography of the artist by Damian Skinner and a touring exhibition titled Split Level View Finder.
The film engagingly re-assesses Theo's involvement in NZ art: his influence on some of the country's major visual artists - both Pakeha and Māori - as well as craft communities, exploring a controversial but enduring legacy.
Schoon was an openly gay artist whose journey and discoveries, contentious and confronting though they may be today, were decisive in affecting change for both individuals and for New Zealand culture. Theo was the hinge around which others swung into a deeper appreciation of the New Zealand experience.
VIEW TRAILER HERE: vimeo.com/690893026
"A rich and at times riveting documentary ... Takes up the job of allowing the artist to be heard, finally, over the cacophony of controversy. ... Bieringa's voice brings empathy, balance and compassion." - Hamish Coney, Newsroom, NZ
Director, narrator - Luit Bieringa
Producer - Jan Bieringa
Photography – Scott Mouatt, Bruce Foster, Joseph Kelly, David Paul
Editor – Lala Rolls
Music – Gareth Farr
Sound Design – Tom Scott-Toft
Produced with financial assistance from Creative NZ (the Arts Council of New Zealand Toi Aotearoa), the Stout Trust, and the New Zealand Film Commission / Te Tumu Whakaata Taonga.
Produced in co-operation with Eye Filmmuseum and Blair Wakefield Exhibitions.
Related files