TOTEM & ORE
Year: 2019
Classification: Exempt - Ronin Recommends: PG
Runtime: 98 min
Produced In: Australia
Directed By: John Mandelberg
Produced By: John Mandelberg
Language: English and Japanese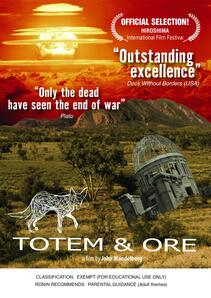 price includes GST and postage

TOTEM & ORE explores the effects of Nuclear bombs and weapons testing across the globe, from the Manhattan Project's first Atomic bomb test in the desert of Nevada, to the Hiroshima and Nagasaki bombs in 1945, and the first British thermonuclear test at Christmas Island in the Gilbert Island chain in the North Pacific in 1963.
In Australia, uranium mining and British atomic testing ran from 1952 on the Montebello Islands off Western Australia, and from 1953 to 1963 at Emu Field and Maralinga in South Australia. Indigenous communities have had to live with the impact of nuclear weapons testing since the 1940s – testing that infected communities with radioactive fallout.
In September 2016, an art exhibition, Black Mist, Burnt Country, opened on the 60th anniversary of the first Atomic test at Maralinga in South Australia. This exhibition featured Australian artists' work, including Indigenous artists, who responded to the history and effects of the testing in outback Australia.
In the film, the historic tragedies are re-visited by atomic bomb witnesses in Japan and Australia, and in the stories of filmmakers, artists, actors, writers, composers, doctors and scholars who tell a story of Indigenous community resilience and express their sense of foreboding for the fate of humanity and the Earth.
Official Selection and Honourable Mention, International Uranium Film Festival, Rio de Janieiro, May 2022.
Director, Producer, Editor - John Mandelberg
Cinematographer - Nicholas Sherman ACS
Actress and Narrator - Ursula Yovich
Composer - David M. Sidwell
Animator - Dawn Tuffery
Special thanks to B. Wongar (author of the book, Totem & Ore)
(c) 2019, John Mandelberg and Dingo Books
---
VIEW TRAILER HERE: vimeo.com/613522585
---