GREAT STRIKE 1917, THE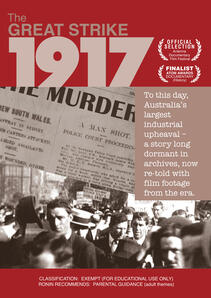 price includes GST and postage

To this day, the Great Strike of 1917 is still Australia's largest industrial upheaval. The story of the Strike has long been dormant in archives, and is now re-told with original film footage from the era.
Sydney, 1917: a seemingly innocuous management decision in a Sydney tram depot and rail workshop sparked an industrial dispute that had longstanding and profound effects on the nation. With the introduction of a new "timecard" system to record work times and output, thousands of men and women joined protest marches through the streets. The government recruited volunteers to break the strike, issuing some of them with guns. Unions were deregistered and union leaders were charged with conspiracy. It was a time of violent emotions, state violence and individual acts of violence by and against strikers. One striker, Mervyn Flanagan, was shot and killed.
This powerful documentary examines the industrial, social and political context of a struggle that had lasting consequences for the labour movement in Australia. Personal stories and legacies echoed through generations of families for years to come, empowering the fight for decent conditions and fair treatment in the workplace, and still strongly resonate today.
"Depicting a historical moment of working-class protest, Amanda King's documentary brings together analysis and copious archival material with artistic responses to the 1917 strike a century on. ... A welcome and important addition to our continuing national dialogue regarding workers' rights, unions, class and power. ... (An) elegant and insightful exercise in non-fiction storytelling."
- Barnaby Smith, Metro Magazine 205
---
Featuring:
Professor Lucy Taksa, Centre for Workforce Futures, Macquarie University
Sally McManus, Secretary, ACTU
Frances Morgan, Writer, The Folded Lie
John Graham, Labor MLC, NSW Parliament
Laila Ellmoos, Historian, City of Sydney Council
Simon Drake, National Film & Sound Archive
OFFICIAL SELECTION! Antenna Documentary Film Festival.
FINALIST! ATOM AWARDS, Documentary (History).
OFFICIAL SELECTION! Workers Unite Film Festival, New York, September 2020.
Writer, Director, Editor Amanda King
Producers Amanda King, Fabio Cavadini
Director of Photography Fabio Cavadini
Graphic Designer Miriana Marusic
Sound Designer Anthony Marsh
Production Company Frontyard Films
---
VIEW TRAILER HERE: vimeo.com/420529709
---
Comment by Prof Lucy Taksa, Centre for Workforce Futures, Macquarie University:
The fears expressed by the workers in 1917 have become more real than ever before. The Great Strike 1917 reveals how working people in Australia reacted to the introduction of F.W. Taylor's Principles of Scientific Management. Taylor's system aimed to increase efficiency by breaking jobs down into smaller parts and increasing control over the performance and timing of work. In practice, it reduced the time given to perform jobs and increased surveillance over workers to make sure work was done more quickly. These methods meant workers were effectively being de-skilled, cheapening the cost of labour and making more profit for employers. Workers thought the increased control and requirement to only do repetitive and limited tasks would turn them into robots.
Today, these principles and techniques can be found in a range of organisational, occupational and professional contexts. While Taylor used a stop-watch and slide rule to measure work time and performance, and to dictate output, today's increased performance measurements and surveillance uses the latest technologies and innovation. Artificial Intelligence (AI), automation and various digital systems can now record and dictate how long we work and are intensifying the demands of work, just like Taylor's system did 100 years ago.
Besides factory workers, today these systems of timing and measurement influence not only those who work at places like McDonalds or in Amazon warehouses but also food delivery gig workers as well as academics, accountants, doctors and lawyers who now have to time how long they spend with students, clients and patients. Many simpler parts of their jobs have been outsourced to lower skilled workers. The most important point to be made for the youth of today is that in their first jobs, probably in low skilled work for corporates and the like, the same management performance techniques that Taylor promoted will be used. They can ask their parents about their jobs, are they timed to see how long it takes to do a task? – if so, that's Taylorism.
---
DIRECTOR'S STATEMENT:
We began researching the story behind the 6 week strike that occurred in Sydney in 1917 at the time of the 100 year anniversary in 2017. It quickly became apparent that this was a powerful confluence of events that challenged all the stereotypes.
Industrial action occurring at the height of an intense period of nationalistic fervour – World War I was unbelievable enough. Yet the more details came to light, the more remarkable the story.
The story explores three elements to the strike – the reasons behind it, the murder of a striker and an early and compelling case of film censorship.
Australia's largest industrial action occurred because workers rejected the integrity of their work being compromised by the introduction of American-based efficiency techniques, known as Taylorism or Scientific Management. The ever changing nature of the work environment is nothing new to contemporary society as we grapple with the impacts of AI.
This is a film to remind audiences today that the confluence of new technology, power and politics is occurring in very much the same way as it did all those years ago.
- Amanda King
---
Related files