LITTLE TOWNS, BIG VOICES
Year: 2016
Classification: M
Runtime: 28 min
Produced In: Australia
Directed By: Fran Dobbie
Produced By: Fran Dobbie
Language: English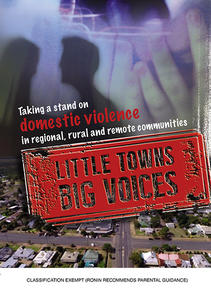 price includes GST and postage

Little Towns Big Voices - a tough and inspiring doco addressing the scourge of domestic violence and shining a light on positive solutions - is one of the most important projects I've been involved with, and I commend it highly to communities and educators.' - Peter Garrett
Domestic abuse is a dark shadow that lives in the heart of Australian society, affecting individuals, families and neighbourhoods. In regional, rural and remote Australia, whole communities can be affected. In this powerful short film, this often hidden subject is brought to light by people willing to speak out about abuse to help create social change. With the help of the NSW Police Force, one little town in the far west of NSW is using the voices of its community members as the weapon with which to battle domestic violence and create lasting change for future generations.
Narrating this documentary is Peter Garrett, formerly lead singer of the legendary band Midnight Oil, politician, and now author. Peter stresses his great concern about the domestic violence epidemic we have in regional, rural and remote Australia. Through Peter's narration and the stories of the people from these towns, the film expresses sadness, anger, fear and ultimately hope.
The writer-director, Fran Dobbie, is the daughter of a Yuin woman from the south coast of NSW, and an English-born father. She is a teacher, author and motivational speaker and mother. As creator and former CEO of Essere Living Skills, a charitable organisation, she led a team that delivered resilience building and self-esteem workshops for young people. She is the producer of a series about the personal development of young people – ON THE EDGE (2010) and an accompanying feature documentary, OVER THE EDGE (2015). Both the series and the documentary are available from Ronin Films. In 2015 she also completed a documentary about teenage alcoholism, MEN DON'T CRY (also from Ronin).
ALSO ON THIS DVD: Extended interview with Peter Garrett.
---
NOTE ABOUT CLASSIFICATION:
LITTLE TOWNS, BIG VOICES has been given an "M" Classification by the Classification Board - i.e., a recommendation that the film be viewed by "Mature Audiences". The Board has given this classification because of "Coarse Language" contained in the film. The Board also sent the following advice:
"The Board notes that the film contains themes and violence that can be accommodated within a lower classification. In the Board's opinion, given the film's documentary context, the treatment of themes and violence imparts an impact which does not exceed mild. If the film did not contain the use of moderate-impact coarse language it could be accommodated within the PG classification."
---
Producer-director-writer Fran Dobbie
Co-Producer Amadeo Marquez-Perez
Photography Vanna Seang
Editor Fiona Strain
---
Related files