DON'T CALL ME GIRLIE
Year: 1985
Classification: G
Runtime: 69 min
Produced In: Australia
Directed By: Stewart Young, Andree Wright
Produced By: Hilary Furlong
Language: English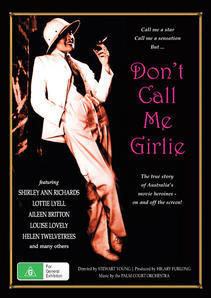 price includes GST and postage

"Don't call me girlie!" With that classic line in the 1938 comedy DAD AND DAVE COME TO TOWN, Shirley Ann Richards sternly ticks off a snooty (male) shop manager. It's the perfect title for a film about the extraordinary women who worked in the golden years of Australia's film industry.
Triumphs and tragedies, scandals and successes of women who made their mark - both in front of and behind the camera - in the years leading up to World War II, are illustrated by contemporary interviews and archival footage from the NFSA. They include stars from the silent era - Louise Lovely and Lottie Lyell, as well as Aileen Britton, Helen Twelvetrees, Charlotte Francis, Jocelyn Howarth (later known as Constance Worth), Jean Hatton and the three McDonagh sisters, who not only starred in, but made several films in the 1920s and 1930s.
Directed in 1985 by Andree Wright and Stewart Young, with music by the Palm Court Orchestra and narration by Penne Hackforth-Jones, the film is also a social commentary on the changing roles of women in Australian society during the first three decades of the 20th century, and more particularly within the film industry, where they were expected to be "Jills of all trades". The 1910s, 20s and 30s were a golden era for women in Australian cinema - it would not be until 1979, when Gillian Armstrong made "My Brilliant Career", that a woman would again direct a major feature film in Australia.
Clips featured from many films including THE SENTIMENTAL BLOKE, THE SQUATTER'S DAUGHTER, TALL TIMBERS, COME UP SMILING, THE SILENCE OF DEAN MAITLAND and DAD AND DAVE COME TO TOWN.
VIEW TRAILER HERE: vimeo.com/545745971
Featuring Aileen Britton, Charlotte Francis, Nancy Gurr, Jean Hatton, Jocelyn Howarth, Louise Lovely, Lottie Lyell, McDonagh Sisters, Marjorie Osborne, Shirley Ann Richards and Helen Twelvetrees.
"ELEGANT AND AFFECTIONATE ... often hilarious and crammed with enchanting detail." - Evan Williams, The Australian.
"HIGHLY ENTERTAINING ... illuminating and captivating." - Vogue.