MINISTER WITHOUT MONEY
Year: 2005
Classification: Exempt - Ronin Recommends: G
Runtime: 28 min
Produced In: Papua New Guinea
Directed By: Bao Waiko, Sandra Welkerling
Produced By: Bao Waiko, Sandra Welkerling
Language: English subtitles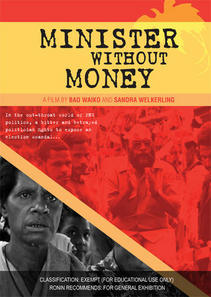 price includes GST and postage

Minister Without Money portrays Dr John Waiko's political rise and fall fourteen years after the first film about Waiko, Man Without Pigs (1990) which focused on the significance of Dr Waiko's achievement as the first Indigenous scholar to gain the title of Professor in Papua New Guinea.
In 2003, Papua New Guinea held one of its most controversial and violent elections. Former Minister for Education and later Foreign Affairs, Dr John Waiko, lost his electoral seat in the coastal region of Oro province and filed a court petition against the newly elected minister of Highlander decent, Peter Oresi. Waiko and his coastal Papuan supporters believe the election was tainted by illegal voting, bribery and voter harassment introduced by Oresi and his Highlander supporters.
The filmmakers. Bao Waiko and Sandra Welkerling, set out to try to make sense of Bao's father's one-year quest for justice in this intriguing tale of loyalty and deceit, corruption and revenge.
Minister Without Money offers a rare insight into the explosive ethnic hostilities and high stakes of election time in a Melanesian culture striving to balance traditional values with western democratic principles.
Written, produced and directed by Bao Waiko and Sandra Welkerling
Editor Cliff Wilding
Cinematographer Bao Waiko
Sound Sandra Welkerling
Music Angus O'Sullivan
© 2005 Pasifik Piksa Productions
NOTE: Man Without Pigs is also available from Ronin Films:
www.roninfilms.com.au/video/859/0/554.html
Permalink: https://www.roninfilms.com.au/feature/584