HOLDING TIGHTLY - Custom and Healing in Timor-Leste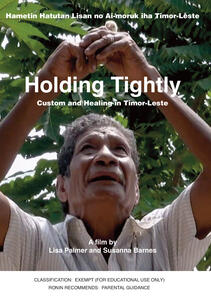 price includes GST and postage

(Hametin Hatutan Lisan no Ai-moruk iha Timor-Leste)
Healing in Timor-Leste is rarely straightforward. Timorese people acknowledge and embrace multiple pathways to healing in a complex interplay between spiritual care, comfort and personal connection. Through lifelong observation and learning, they trial a variety of practices and pass down their knowledge to the next generation.
Holding Tightly observes seven approaches to healing in remote, rural and urban parts of the Baucau municipality in the country's east, spanning contexts and experiences from the armed resistance era to the independence period.
According to their circumstances and access to resources, families share treatments for everyday ailments, while specialist healers hone their diagnostic and therapeutic skills for more complicated conditions. Medicinal plant, divinatory and bone setting knowledge is continually developed and refined according to need and opportunity. Within this diversity are common threads of shared belief, respect, cultural vitality, commitment and resilience. While working independently from formal health institutions, practitioners highlight challenges and opportunities for mutual coordination.
Filmed over a three-year period, Holding Tightly is a contribution to a longer-term research collaboration between the directors and a diverse set of healing practitioners in the young nation-state of Timor-Leste. The film asks viewers to consider what we understand health and wellbeing to mean, showing how healing is intimately entangled with forms of belief and care grounded in deep connections between people and their environments.
With thanks and respect to the healers who shared their knowledge and experience and the community of Baucau municipality.
VIEW TRAILER HERE: vimeo.com/546749242
Camera, audio and directors — Lisa Palmer and Susanna Barnes
Cultural consultants — Fransisco Almeida and Celestinu Freitas
Research contributors — Celestinu Freitas, Fransisco Almeida, Egas da Silva, Jose da Costa, Mariano Dionesio, Luis da Cunha Rego, Herculano Seixas dos Santos and Ritsuko Kakuma
Production Assistants — Quintiliano Mok and Kiku Moniz
Translation — Lisa Palmer
Creative producer — Seth Keen
Editor — Cormac Mills Ritchard
Assistant Editor – Susanna Barnes
Sound mix — Amias Hanley
Supported by the University of Melbourne, RMIT University, the University of Saskatchewan, the Firebird Foundation for Anthropological Research and by the Australian Government through the Australian Research Council's Discovery Project Funding Scheme (DP160104519).
---
FESTIVALS
Official Selection, Society for Visual Anthropology Film and Media Festival (SVAFMF), 2021
Official Selection, Dili International Film Festival 2021
Related files
Permalink: https://www.roninfilms.com.au/feature/17333