SKIN OF OTHERS, THE
Year: 2020
Classification: Exempt - Ronin Recommends: PG
Runtime: 91 min
Produced In: Australia
Directed By: Tom Murray
Produced By: Tom Murray
Language: English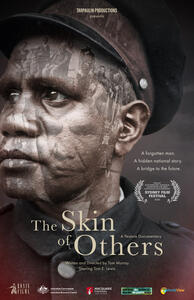 price includes GST and postage
The Skin of Others is a story of modern Australia and the way we understand our national history. It is told through two extraordinary lives: Aboriginal WW1 soldier Douglas Grant (c.1885-1951), and Balang Tom E. Lewis, the charismatic actor who plays him in this film. Douglas Grant was a famous man in his day, and can be imagined as a kind of a Forrest Gump figure ... if Gump had been black, an intellectual, a journalist, a soldier, and a bagpipe player with a fine Scottish accent. His life is Gump- like in the sense that it connects some of the most famous figures and events of the 19th and 20th Century. These figures include Archduke Franz Ferdinand, Adolf Hitler, and Australia's most famous writer of the time, Henry Lawson. The events include the two foundational conflicts of Australian and world history: the Frontier Wars that remade sovereign Aboriginal nation-territories into the Commonwealth of Australia, and WW1, a conflict that has provided Australian histories with a foundational narrative of tragic heroism and national pride in the ANZAC story.
Douglas Grant was born around 1885 into the rainforest Aboriginal Nations of the region today known as the Atherton Tablelands in Far North Queensland, and was taken from his family after a massacre there in late 1887. Nearby to this massacre a group of scientific collectors that included the Scottish couple Robert and Elizabeth Grant, were gathering plant and animal specimens for the Australian Museum in Sydney. The couple ended up fostering an infant survivor of this massacre – christening him Douglas and bringing him to Sydney. And here begins the unlikely journey of Douglas Grant: to Annandale public school, a career as a draughtsman, passing the Sergeant's exam and serving in WW1, becoming a Prisoner-of-War after being captured on the Western Front, working as a postwar journalist and radio announcer, and a role as a passionate activist against racism and bigotry. And all of this before 1930!
In short, Grant was a cultural bridge-builder when it was extremely dangerous to be an Aboriginal man seeking reconciliation across the Australian racial divide. So, with such an inspirational story, why has Douglas Grant been forgotten to history?
The Skin of Others seeks to remedy this situation, and bring Grant's extraordinary life back to public attention. Played by the acclaimed (late) Indigenous actor Tom E. Lewis in his final performance (as Douglas Grant), this is also a film that celebrates Lewis' unique ability to inhabit the skin of others. From Lewis' debut screen performance as Jimmie Blacksmith in The Chant of Jimmie Blacksmith, he has graced Australian screens and stages with his intelligence, charisma, wit and empathy. This film offers further evidence of his ability to articulate the lives of others. Here, consciously harnessing his own life-experience to the task of presenting Douglas Grant, Lewis demonstrates what a great loss he is to the Australian community.
With guest appearances from Max Cullen (as Henry Lawson) and Archie Roach (as himself), this film movingly documents a story of modern Australia, and offers an insight into the lives of Grant and Lewis: two remarkable men who fought to bridge cultures, and who imagined a more reconciled and inclusive Australian future. The Skin of Others dreams of this for our children.
VIEW TRAILER HERE: vimeo.com/423035645
"Masterful storytelling – layered, textured, complex, reflective and intensely moving. The Skin of Others will get under your skin, and change the way you see this nation as its truth seeps into your pores. As Balang Lewis says, 'History is beautiful like this'." - Professor Clare Wright OAM, Professor of History, La Trobe University
"Ten years in the making, The Skin of Others is an insightful achievement in historical truth telling. It makes a profound case for screen-history to express aspects of history that struggle to be communicated in the written form. Murray has shown that the audio-visual form can create authentic historical storytelling. Watching the ninety-one minutes by television screen ... I was 'blown away." - Professor John Ramsland, Emeritus Professor of History, Newcastle University
**** (4 stars) "A powerful impression of Lewis as an artist and an intellect; as a person fascinated by stories and compelled towards the process of artistic creation ... a kind of growing, breathing investigation, constantly expanding its hypothesis, challenging itself and its assertions .... The Skin of Others has a lovely, sometimes thrilling energy to it; you're never quite sure where the next assertion will come from." - Luke Buckmaster, The Guardian
"Not only a fascinating journey of a man of important historical context, but also a celebration of an actor gone too soon." - John Noonan, FilmInk
Written, produced and directed by Tom Murray
Cinematographers – Allan Collins, ACS; Kathryn Milliss, ACS
Editor – Hilary Balmond
Music composed by David Bridie
Art director, visual effects and animation by Rose Draper
Produced By Tarpaulin Productions, with assistance from Macquarie University and the Australian Research Council.
---
FESTIVALS AND AWARDS
Official Selection FIFO Tahiti 2021
Finalist DAF Award for Best Australian Documentary, Sydney Film Festival 2020
Winner APRA AMCOS 'Best Original Song Composed for the Screen' 2020
Winner ATOM Award for 'Best Docu-Drama' 2021
Nominated AWGIE 'Best Writing in a Documentary Feature' 2021
Nominated ASE Best Editing in a Documentary Feature 2020
Nominated ATOM Award 'Best Biopic' 2021
Nominated ATOM Award 'Best Documentary Social and Political' 2021
Related files
Permalink: https://www.roninfilms.com.au/feature/16832