BAULKHAM HILLS AFRICAN LADIES TROUPE, THE
Year: 2016
Classification: Exempt - Ronin Recommends: M
Runtime: 81 min
Directed By: Ros Horin
Produced By: Ros Horin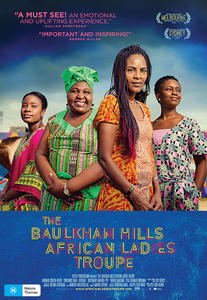 price includes GST and postage

Please Note: For community screening prices, please contact Ronin Films.
---
THE BAULKHAM HILLS AFRICAN LADIES TROUPE is a celebration of the remarkable spirits of four African women survivors of sexual abuse, and the triumph of their improbable theatre troupe.
Four women fled from different parts of Africa to Australia in order to escape violence and abuse. They find a safe haven in Australia, but still they hold their pain silently within them. Until they decide to join a theatre group... and speak out. Under the nurturing guidance of theatre director Ros Horin, they collaborate to let their life stories be transformed into an extraordinary and joyously uplifting theatrical experience. This film charts their personal journeys from trauma to healing and public triumphs, as the Troupe's show moves from a stage in western Sydney out to the world.
---
THE BAULKHAM HILLS AFRICAN LADIES TROUPE focuses on the life stories of four former-refugee women who now live in Australia. Traversing four decades and four African countries, the film follows these bold and charismatic women work through their harrowing pasts to come to perform in front of sell-out audiences. Introducing:
YARRIE (20s ) grew up in a refugee camp in Guinea.
She was just seven years old when the Civil war broke out in Sierra Leone, and she was forced to witness atrocities that deeply traumatised her. Writing poetry has been her emotional outlet and means of survival. She is now a poet, a songwriter, an inspirational speaker and performer ;wise beyond her years. Yarrie is at University studying International Relations and Development. She has also recently been made an Ambassador for Australia for UNHCR.
AMINATA (30s) from Sierra Leone.
She is the girl who was 'too beautiful' for her own good. All her friends used to say, 'When the rebels come to Freetown, you will be the first they will take.' And they did. She was kidnapped by a violent and drug-crazed rebel to be used as a sex slave for many months. Aminata has not only survived, but she is now happily married and a wonderful mother to two beautiful children. She has also done something extraordinary. After barely surviving the difficult birth of her first child herself, she has now set up her own not-for-profit charity, The Aminata Maternal Health Foundation. Sierra Leone currently has the highest infant mortality rate in the world. The Foundation's aim is to create more maternal health facilities in a country that has next to none, to give mothers and babies a better chance of survival back in
Sierra Leone. Aminata is also a designated Ambassador for Australia for UNHCR, in the role of 'an inspirational speaker".
YORDANOS (40s) from Eritrea
She doesn't know much about her early life. As a small child she watched her father kill her mother and then he abandoned her to fend for herself on the streets. That's when her abuse started. Around 5 years of age, she was picked up by the Eritrean army to be trained as a child soldier and consequently experienced 15 years of constant violence and sexual abuse, till she escaped. She had no education. The army was the only life she knew until coming to Australia. Despite having had no upbringing herself, Yordy is an extraordinary 'natural' mother, who is bringing up four remarkable children on her own. She is now also studying at TAFE to make up for the education she never had, and is searching out her future direction in life. She plans to write her own biography, and is keen to train as a counsellor.
ROSEMARY (50s) from Kenya
No one could guess at Rosemary's dark secret. A horrific history of ongoing abuse by members of her own family, starting from a very young age. 'Big mama Rosemary' as she is fondly known, is a community leader, 'a Living National Treasure,' say the African community in Sydney. She has worked for many years with the NSW Police Force in western Sydney, as a community liaison officer. Rosemary is also the founder of The African Women's Dinner Dance, a much-awaited event on the social calendar, where 500 African women from all over NSW, come out to dance the night away. Another initiative of Rosemary's is an inspiring community exchange program between women refugees and migrants from various ethnic backgrounds and Australian countrywomen. The Australian women each host a 'new Australian' from an ethnic background in their homes for the weekend in country NSW.
---
WATCH THE TRAILER: vimeo.com/507371421
---
OFFICIAL SELECTION - 2016 Melbourne International Film Festival
OFFICIAL SELECTION - 2016 Sydney Film Festival
DARWIN International Film Festival - opening night film
BOFA Festival, Launceston, Tasmania
MUMBAI International Film Festival - in competition
SANTA BARBARA International Film Festival - in competition
FIPA tv, Festival, France - in competition
DURBAN International Film Festival
UNHCR Refugee film festival, Japan
Mumbai International Film Documentary Film Festival - in competition
MADRID International Film Festival - in competition
MONTREAL World Cinema Film Festival
CHICAGO-blow-up Arthouse Film Festival
COMMEFEST Arts and Community Film Festival, Toronto
Artemis women in action film festival, Los Angeles
PASSAGES - Women in Transition film festival, Newark, New Jersey
UNHCR Refugee Film Festival, Hong Kong
HARLEM International Film Festival
WOMEN FILM AWARDS, Djakarta - winner, Gold Women Humanitarian Award
Womens Rights Film Festival - Seoul
---
Permalink: https://www.roninfilms.com.au/feature/14400