TEA WITH MADAME CLOS
Year: 2010
Classification: G
Runtime: 90 min
Produced In: Australia
Directed By: Jane Oehr
Produced By: Jane Oehr
Language: French language with English subtitles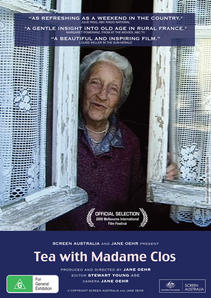 price includes GST and postage

TEA WITH MADAME CLOS is about an extraordinary woman in her extreme old age living in a small medieval village in South West France. Couched in the framework of a train journey, the filmmaker remembers her many encounters over four years with Madame Clos.
Madame Clos, the oldest woman in the village, is buoyant and engaged in life around her which she observes each day through her kitchen window. There she shares her thoughts, fears, joys and sorrows - there she witnesses the dramas of village life. Over cups of tea in her kitchen she confides intimate stories from the whole of the last century. And as she approaches her 100th year she reveals the secret handed down from her mother that has guided her.
In this often humorous and moving portrayal we meet local characters, experience the rhythms of daily life, participate in a joyous wedding and witness a fiery debate on life's values. TEA WITH MADAME CLOS is an intimate, philosophical exploration into the processes of ageing and how to live a life.
Filmed entirely in France, TEA WITH MADAME CLOS captures the old ways of French life that are disappearing. Madame Clos lives in the present and the sky is blue.
---
"A gentle insight into old age in rural France." - Margaret Pomeranz, At The Movies.
"Charming - I loved it, as refreshing as a weekend in the country." - Julie Rigg, MovieTime, ABC Radio.
"Absolutely charming ... Highly recommended ... a moving and rewarding experience" - Mark Lavercombe, hoopla.nu
"TEA WITH MADAME CLOS is a heart-warming slice of life which left many in the audience in tears." - Australian Film Review.
---
Follow this link to view TEA WITH MADAME CLOS trailer: www.youtube.com/watch?v=ZjYvf81R-4U
---
Related files
Permalink: https://www.roninfilms.com.au/feature/4192