LEAST SAID, SOONEST MENDED
Year: 1999
Classification: Exempt - Ronin Recommends: PG
Runtime: 52 min
Produced In: Australia
Directed By: Steve Thomas
Produced By: Steve Thomas
Language: English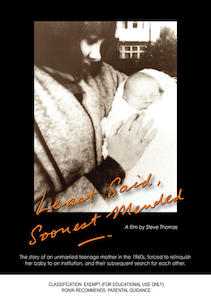 price includes GST and postage

The story of the filmmaker's twin sister: an unmarried teenage mother, despatched at the age of 15 to an institution where she was hidden away and arrangements made for the adoption of her baby. Val then lived for the next 25 years (19 of them in New Zealand) without knowing where her child was or whether she was alive or dead. Eventually however, Val's determination and the curiosity of her daughter, Karen, brought about their reconciliation from opposite sides of the globe in 1992.
It is a tale which resonates with the painful process Australia is now going through in reluctantly facing its past treatment of children, be they orphans, adoptees or 'the Stolen Generation'. The film generates new encounters and provokes fresh revelations as the filmmaker's family motto of "least said, soonest mended" is challenged and a new atmosphere of truth is fostered which was unthinkable, even in the apparently permissive swinging 60s.
As Val tells her story, we meet the protagonists from every side of the 'adoption triangle'. The 'grandmother', the 'unmarried mother', the 'illegitimate daughter' and the 'adoptive father' each give their perspectives. We revisit the sites of Val's incarceration - of the exclusive boarding school where she lived in an attic and toiled as a kitchen hand; of the Maternity Home in Bournemouth where she had her baby; and of the Adoption Society in London, where the baby was handed over to a couple whose identity Val was not to know for 30 years.
We follow Val as she marries and emigrates to Auckland to 'get away' but is tormented by the memory of her lost baby. Learning of a change in the secrecy provisions of adoption law, she takes steps to ensure that should her daughter ever enquire, she will discover Val's whereabouts.
Can family reconciliation be achieved through the making of a film like this, or will the tenacity of cultural repression passed down through the generations win out after all?
Related files
Permalink: https://www.roninfilms.com.au/feature/9849