JAMMIN' IN THE MIDDLE E
Year: 2005
Classification: Exempt - Ronin Recommends: PG
Runtime: 49 min
Produced In: Australia
Directed By: Kim Mordaunt
Produced By: Enda Murray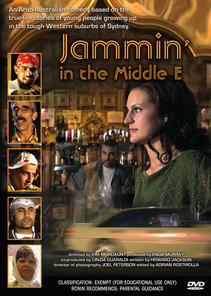 price includes GST and postage

JAMMIN' IN THE MIDDLE E began with a series of drama workshops conducted by producer Enda Murray with 23 young people from the Arab community in Bankstown, in Sydney's Western suburbs. The story is based on their own experiences and on their own imagination. Writer Howard Jackson, director Kim Mordaunt and a professional crew joined the project and helped the young performers to create this high-spirited and colourful one hour drama.
The story of the making of the drama is told in the accompanying documentary, HABIBI JAMMIN' which appears on this DVD after the feature.
Despite having no previous acting experience, the young cast have an enthusiasm and an energy that makes the film infectiously enjoyable. It's the story of an Australian-Arab family living in Sydney's "Little Lebanon". Ishak is a part-time rapper who likes to act tough but is always getting into strife. His sister, Naima, always has to bail him out. Ishak and Naima's father, Said, is old-fashioned and a stickler for tradition. Little does Said know that his conservative wedding reception hall is to become the venue for a wild 'rap battle'!
---
"This is priceless, both in its humour and its capacity to open a window into the thinking of Muslims in Sydney's maligned south-west." - Sydney Morning Herald.
"Revealing and delightful ... beguiling ... This brilliant film radiates with catharsis ... Mordaunt directs with a kind of cinema-verite intimacy and an aesthetic power that matches the social impact ... Maybe there is a future for the local film industry." - Weekend Australian.
---
Jammin' in the Middle E has screened at:
Mumbai International Film Festival, India
St Kilda Film Festival, Melbourne
Sydney Arab Film Festival
Fresh Film Festival (toured nationally in Australia)
Selected for the Sydney Powerhouse Museum's Great Moments in Australian TV Exhibition
---
Feature followed by HABIBI JAMMIN' - the making of JAMMIN' IN THE MIDDLE E directed by Brian Rapsey. (26 mins)
Habibi Jammin' has screened at:
St Kilda Film Festival, Melbourne
DocoNZ, New Zealand
Related files
Permalink: https://www.roninfilms.com.au/feature/658