LAND OF THE LITTLE KINGS
Year: 2000
Classification: Exempt - Ronin Recommends: G
Runtime: 78 min
Produced In: Australia
Directed By: Des Kootji Raymond
Produced By: Paul Roberts
Language: English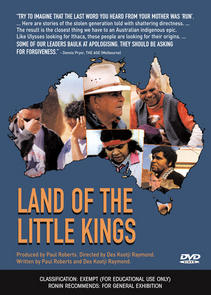 price includes GST and postage

Archie Roach was about three years old when he was taken from his family. He talks about the value of 'joining the circle' - his metaphor for the recovery that can be achieved by those who have been separated from their families, as they link up again.
We meet Jean in Cootamundra who was taken with her four siblings from La Perouse while her mother begged for more time with her children. When Sam Murray was taken as a young boy he was too young to remember his name. Alec Kruger tells stories of the institution he was sent to as a child. His only escape was to join the army.
We meet Archie's partner, Ruby Hunter, also a musician. She returns to her childhood home for the first time and tells the story of how her brothers and sisters were in the care of her grandmother. One day they were offered a trip to the circus by a couple of government officials. Ruby recounts how they were so excited, all dressed up in their Sunday best, expecting to return home to nanna full of wonderful stories. They never returned. Nanna never saw them again and was never told where they went. On her death bed she still cried for her little ones.
LAND OF THE LITTLE KINGS takes its name from Paul Kelly's song, a powerful lament for what was the lucky country where now its people can't even see 'the poison in the wells' and 'justice don't mean a thing'. Archie's haunting rendition of the song bookends the film.
Archie's journey around Australia symbolises the search for wholeness and identity. In his modest and non-judgemental way, Archie reveals a path towards the healing of broken circles while, at the same time, rediscovering truth, integrity and mateship as national values.
---
"TRY TO IMAGINE THAT THE LAST WORD YOU HEARD FROM YOUR MOTHER WAS 'RUN'. ... Here are stories of the stolen generation told with shattering directness. ... The result is the closest thing we have to an Australian Indigenous epic. Like Ulysses looking for Ithaca, these people are looking for their origins. ... SOME OF OUR LEADERS BAULK AT APOLOGISING. THEY SHOULD BE ASKING FOR FORGIVENESS." - Dennis Pryor, THE AGE (Melbourne).
"People like me, we think in circles ... we make a journey in life, and life being a circle, we follow that circle. If that circle gets broken ... people don't know what to do, they become confused ... But there's a good way we can join that circle back up again and that's by reaching out. Joining hands. The circle's healed. Linked up, all the people, together again." - Archie Roach.
WINNER!!! 2000 HUMAN RIGHTS AWARD IN THE TELEVISION CATEGORY.
Related files
Permalink: https://www.roninfilms.com.au/feature/616