HISTORY BITES BACK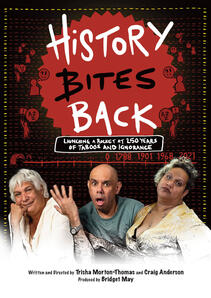 price includes GST and postage
FINALIST! Best Documentary - History category, 2021 ATOM Awards!
"History Bites Back is a reply to the historical myths and negative Social Media stereotyping of a unique Australian minority, of which my family and I are a part." - Trisha Morton-Thomas
After the bold and brilliant Occupation: Native, Aboriginal filmmaker Trisha Morton-Thomas teams up again with Comedy Director/Writer, Craig Anderson. They join forces with some of Australia's freshest comedic talent (Steven Oliver and Elaine Crombie) to launch a rocket into a wealth of taboo issues.
Our continent has over a hundred thousand years of black history yet when the whitefellas began to build their country on top of Aboriginal mobs' countries, they believed that the Aboriginal population would die out. Luckily they were wrong, but ever since then the whitefellas haven't really known what to do with the blackfellas and the blackfellas haven't been able to get rid of the whitefellas ...
... and now there's other fellas from all over the world sharing this place called Australia. Still, our schools concentrate on the last 250 odd years of colonisation and most of that through a white colonial lens.
So, in this day of modern technology, unlimited information and the World Wide Web, Aboriginal people still put up with a boatload of ignorance and misconceptions from our fellow Australians.
Supported by graphic effects, animation, archival materials and re-enactments, and infused with comedy, satire and good old-fashioned irony to bring home more of the story behind Australia's black history, History Bites Back uses humour and innovative film techniques to unpack the negative social bias of 250 odd years of shared history between its First Peoples and modern-day Australians.
VIEW TRAILER HERE: vimeo.com/563585017
Featuring Trisha Morton-Thomas, Steven Oliver and Elaine Crombie
Written and Directed by Trisha Morton-Thomas and Craig Anderson
Produced by Bridget May
Cinematography by Shane Mulcahy
Edited by Craig Anderson
Sound Design by Jeremy Conlon
Production Design by Rebecca Elson
Illustrations by Kambarni
VFX and Animation by Doug Byrne
Colour Grade by Rory McLeod
Produced by Brindle Films (Alice Springs, NT) in association with Screen Australia, Screen Territory and National Indigenous Television
---
DIRECTOR'S STATEMENT:
History Bites Back evolved at an incredibly difficult time in my life, and this is reflected in the tone of the film. In essence I was wrung out by what was essentially a decade long waves of loss and grieving in my family as well as feeling hampered by appeasing 'Australian Sensitivities' in representing authentic Indigenous voices and experiences on screen. I felt disheartened, disillusioned and deeply aggrieved by this country and its long tradition of presenting non-sense and non-truths about Australia's first peoples and our history – In traditional media and now especially in online social media.
Ignoring the well-rehearsed, worn and generational put-downs by clueless Australians with no understanding of history and its social impact on Aboriginals, is the rational thing to do - But I'm only human and often the strain of the constant, ongoing and unjust vilification of Indigenous peoples, cuts painfully deep. None-deeper than the annual –
THE WORST DAY OF ALL...
Historically commemorated as the national 'Day of Mourning' by Aboriginal peoples since 1938 then, eighty years later officially adopted federally as 'Australia Day' in 1994 - January 26th has become an ugly and violent social media frenzy of historical inaccuracies and racist rhetorics. On this day, more than every other day, Australia's Indigenous people are assaulted by a tsunami of baseless, factually inaccurate, on-line racial vilification that wears on both mental and emotional well-being of Aboriginal people of all ages.
This film is a reply to the historical myths and negative social media stereotyping of a unique Australian minority; of which me and my family are a part of.
- Trisha Morton-Thomas (edited from original statement in the film's Press Kit - see download link below)
---
Related files
Images
Permalink: https://www.roninfilms.com.au/feature/17419