GIRLS' TALES: Women discuss experiences of schooling
Year: 2015
Classification: Exempt - Ronin Recommends: G
Runtime: 87 min
Produced In: Australia
Directed By: Melissa Wolfe
Produced By: Melissa Wolfe
Language: English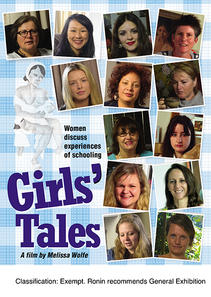 price includes GST and postage

GIRLS' TALES: Women discuss experiences of schooling consists of three thirty-minute episodes. The documentary is a compilation of interviews in which adult women recollect the experiences and opportunities of their secondary school education.
It is a rich educational resource and a provocative discussion starter on the subject of female experiences in secondary school, and also a stimulus for student's own research. It is at once inspiring, humorous and disturbing.
Episode One (Happiness, Uniforms and Bodies) recounts instances of belonging at secondary school alongside incidences of non-belonging. Experiences re-told include issues of negotiation surrounding the requirements of wearing school uniforms that inform a conception of desirable bodies.
Episode Two (Subject Choices, Teachers, Opportunities) recounts student interactions with teachers and others, involving incidents of injurious speech. It also recounts the impact of school spaces and illustrates the dynamism of matter. This episode discusses active participation and elucidates a particularly troubled relationship for these young women with mathematics.
Episode Three (Sex, Exclusions, Bullying) considers interactions connected to sex education and sex talk at school. These accounts inform how exclusions were explicitly made through the reductive production of difference and re-tell experiences of bullying.
Melissa Wolfe conducted the interviews and made the film in the course of researching her PhD at Monash University, completed in 2015. She is a Visual Arts and Media educator with 20 years' experience in the Australian public and private secondary education sector. She has an undergraduate degree in Fine Art (Photography), a Masters degree in education (focusing on aesthetic and affective pedagogy). Her research interests encompass a synthesis of aesthetics, affect, gender, and pedagogy, and she currently works as a university level lecturer in teacher education.
Permalink: https://www.roninfilms.com.au/feature/12626