MUSIC AND MURDER
Year: 2003
Classification: Exempt - Ronin Recommends: PG
Runtime: 52 min
Produced In: Australia
Directed By: Michael Cordell
Produced By: Michael Cordell
Language: English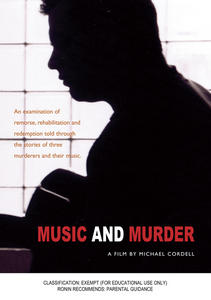 price includes GST and postage

An examination of remorse, rehabilitation and redemption told through the stories of three murderers and their music.
MUSIC AND MURDER follows the story of three men, all incarcerated for horrific murders, who have become accomplished musicians in prison. As they reveal their life stories in song, the film examines whether this form of self-expression is a useful part of the rehabilitation process.
At heart, MUSIC AND MURDER is a broader story about remorse, rehabilitation and redemption - issues that go to the heart of imprisonment and the notion of 'correction'.
Five years in the making, MUSIC AND MURDER also charts a shocking event that occurred during filming that underpins the complexity of these issues. The film highlights the fundamental difficulty faced by those who must decide whether a criminal is 'rehabilitated' or not. How do you tell when it is safe to release a criminal back into the community?
Official Selection - Melbourne International Film Festival
Permalink: https://www.roninfilms.com.au/feature/508