MORESBY MODERN
Year: 2009
Classification: Exempt - Ronin Recommends: G
Runtime: 52 min
Produced In: Australia
Directed By: Brendan Walsh
Produced By: Brendan Walsh
Language: English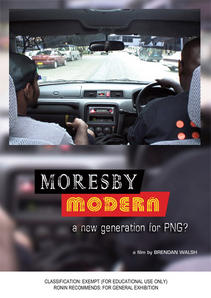 price includes GST and postage

For many people, the mention of Papua New Guinea will evoke images such as remote highlands cultures and tribal warriors; or perhaps tropical islands and palm fringed beaches, or it may bring to mind darker images of poverty, corruption and raskol violence.
But in PNG's capital, Port Moresby, things are starting to look a little different.
PNG is slowly joining the globalised world, and if you look closely at this society in transition you can see signs of a modest middle class on the rise, and a new generation coming of age. In Moresby you can find a small band of business people, professionals, managers, and creatives, all working hard to build a better life for themselves and their families.
Moresby Modern, is the stories of 7 such people, as they work in the challenging environment of a developing country, learning to balance the traditional expectations of their culture with the demands of modern society.
Join us as Emmanuel, Susile, Michael, Api, Rhoda, Allen and Gazzelah share with us their perspectives on their society, and their hopes and dreams for a better Papua New Guinea.
---
Follow this link to view a trailer of this title along with others for use in support of overseas aid programmes: www.youtube.com/watch?v=hl1yF7wgcL4
---
Follow this link to view a trailer of MORESBY MODERN: www.youtube.com/watch?v=KlLt2wrSYxU
Permalink: https://www.roninfilms.com.au/feature/3899