WHO WE ARE - Brave New Clan [from the CAAMA Collection]
Year: 2015
Classification: Exempt - Ronin Recommends: G
Runtime: 47 min
Produced In: Australia
Directed By: Leah Purcell
Produced By: Alice Taylor
Language: English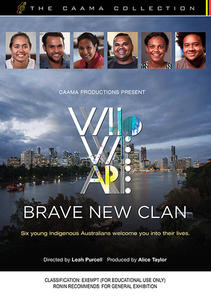 price includes GST and postage

Brave New Clan features six extraordinary young Australians who share what Indigenous culture means to them today in contemporary urban Australia. From the bustling streets of Sydney to the aquamarine vistas of the Torres Strait, their stories span a diverse population across the country and yet share common themes of resilience, courage, optimism and success.
James Saunders is Gundtijumara on his father's side and Wiradjuri on his mother's side. Through his success as a rugby player, James challenges stereotypical perceptions of gay men in Australia. He is passionate about Indigenous representation in the media and runs his own digital PR company.
Miranda Tapsell is a descendent of the Larrakia and Tiwi nations. Actress Miranda has had starring roles in the hit movie, The Sapphires, and the TV drama, Love Child. Through her work in theatre, film and television, she hopes to help bridge the gap between Indigenous and non-Indigenous Australians.
Harry Sabatino is from Sabai Island in the Torres Strait. Harry is an engineering student at the University of Queensland. He is motivated by the threat rising sea levels pose to his island home. He has plans to start up an engineering business in the Torres Strait that will employ local people.
Joshua Toomey is a Wiradjuri man from Dubbo, NSW. From an underprivileged background, Josh had no career prospects. But his vision and determination saw Josh become NAIDOC Apprentice of the Year and soon, a fully qualified electrical linesman.
Kim Isaacs is Yawuru and Karajarri on her mother's side and Noongar on her father's side. Kim works as a doctor in a medical centre in Broome, WA. In addition to qualifying as a western doctor Kim learnt traditional Aboriginal medicine that was passed down from her grandfather. She now draws on both in her practice.
Kaylah Tyson (aka Kaylah Truth) is a Meerooni woman of the Gurang nation. With a background in conscious political rap in groups such as The Poetic Murriz and the Impossible Odds Crew, Kaylah is now a successful solo hip hop artist. Kaylah recognises the power of music to reach people and make connections.
VIEW TRAILER HERE: vimeo.com/410888545
---
"It's not often that a TV show leaves you feeling privileged for having seen it, but that's absolutely the case with this beautiful documentary. Six young Indigenous people share their stories of success and they're an extraordinarily diverse lot, challenging stereotypes at every turn. Some will be familiar – actor Miranda Tapsell, rugby player James Saunders. Some, like the young Broome doctor, are serious high achievers. Others are even more inspirational simply because they've created something from a life that had them on the fast track to nothing. And while it's a shame that the whitefellas who most need to watch this won't, how wonderful if Indigenous kids across Australia see it, and are emboldened to change their own lives."
- Melinda Houston, TV Critic, Sydney Morning Herald
---
Produced by CAAMA Productions in partnership with Reconciliation Australia and Foxtel. Developed with the assistance of Screen Territory. Principal Investor Screen Australia.
---
Related files
Permalink: https://www.roninfilms.com.au/feature/11889