MAKING TRAPS
Year: 1994
Classification: Exempt - Ronin Recommends: G
Runtime: 27 min
Produced In: Australia
Directed By: Roland Gallois
Produced By: Rosemary Blight, Richard Payten
Language: English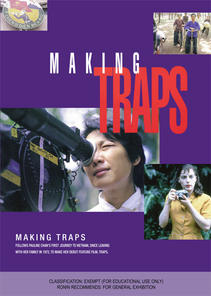 price includes GST and postage

This "Making of" documentary is an exemplary sample of the genre, observing the ideas and experiences involved in making the feature film, TRAPS, directed by Pauline Chan. TRAPS was Pauline's first feature after several award-winnng short films, and expectations were high among her backers, including the Japanese distributor-producer Hara Masato who had backed many films by Kurosawa and other giants of world cinema. Apart from the personal pressure of those expectations,TRAPS was one of the first Western films to be shot in Vietnam after the War, and the production involved numerous logistic and political challenges. There were also difficult personal dynamics to contend with, almost inevitable in a very tightly budgeted film. Given these elements, the decision was made by the Australian distributor of the feature to follow the course of the production as a stand-alone documentary.
Pauline Chan opened herself up to scrutiny by the camera throughout the production of TRAPS, but also shared her personal thoughts in a diary format. The intimacy of the film is rare in the "making of" genre.
When released in 1994, TRAPS did not fare well, either with critics or at the box-office, and the film is ripe for re-evaluation as a personal and intensely idiosyncratic work, of which MAKING TRAPS is a remarkable testament.
---
PAULINE CHAN
Pauline left Vietnam as a teenager, moving to Hong Kong where her beauty and talent brought early fame and success as a movie star.
Disillusioned with the rigid hierarchy of the Hong Kong film studio system, she broke her contract and escaped to America where she continued her film studies.
After migrating to Australia, Pauline worked as a researcher and production manager for Film Australia and directed two documentary films there. She then studied at the Australia Film, Television and Radio School.
Her student film THE SPACE BETWEEN THE FLOOR AND THE DOOR, and the AFC film HANG UP, were invited to the Cannes Film Festival in 1990 (and many other festivals) where Pauline attracted the attention of the international film community.
Two years passed before Jim McElroy approached her to direct TRAPS, adapted from Kate Grenville's novel DREAMHOUSE. After much reworking of the script with writer Robert Carter, they finally came up with TRAPS. This allowed Pauline to realise her greatest dream, to return to Vietnam with her first feature film.
Permalink: https://www.roninfilms.com.au/feature/9120